Publication:
La actuación Temprana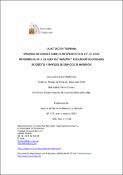 Advisors (or tutors)
Editors
Abstract
La actuación temprana fue regulada, urgentemente, en la Ley 9/2012, de 14 de noviembre, de reestructuración y resolución de entidades de crédito. Posteriormente, se publicó la Directiva 2014/59/UE del Parlamento Europeo y del Consejo, de 15 de mayo de 2014, por la que se establece un marco para la reestructuración y la resolución de entidades de crédito y empresas de servicios de inversión, y por la que se modifican la Directiva 82/891/CEE del Consejo, y las Directivas 2001/24/CE, 2002/47/CE, 2004/25/CE, 2005/56/CE, 2007/36/CE, 2011/35/UE, 2012/30/UE y 2013/36/UE, y los Reglamentos UE nº 1093/2010 y UE nº 648/2012 del Parlamento y del Consejo. El artículo analiza las relaciones sistemáticas de la actuación temprana y algunos cambios necesarios para cumplir con esta Directiva.
Early intervention was regulated, urgently, in Act 9/2012, of 14 de November, for the recovery and resolution of credit institutions. Later, wash published DIRECTIVE 2014/59/EU OF THE EUROPEAN PARLIAMENT AND OF THE COUNCIL, of 15 May 2014, establishing a framework for the recovery and resolution of credit institutions and investment firms and amending Council Directive 82/891/EEC, and Directives 2001/24/EC, 2002/47/EC, 2004/25/EC, 2005/56/EC, 2007/36/EC, 2011/35/EU, 2012/30/EU and 2013/36/EU, and Regulations (EU) No 1093/2010 and (EU) No 648/2012, of the European Parliament and of the Council. The paper analyzes systematic relationships of early intervention and some changes necessary to comply with this Directive.
Collections