Publication:
Dependencia e impacto social de la enfermedad de Parkinson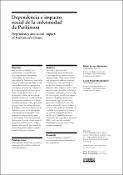 Advisors (or tutors)
Editors
Publisher
Centro Español de Documentación sobre Discapacidad (CEDD)
Abstract
Este artículo profundiza en el conocimiento y cuantificación de la dependencia, limitaciones y necesidades de apoyo de la enfermedad de Parkinson y aborda las diferentes implicaciones negativas que ésta conlleva desde una perspectiva sociológica. Se incide en el deterioro de la vida social del paciente, quien reduce su red de contactos y la intensidad y calidad de los mismos. También se deteriora la vida cotidiana de la persona cuidadora en el hogar, normalmente mujer o hija, que asume una gran carga de trabajo adicional. El análisis, centrado en España, se ha realizado a partir de la bibliografía y documentación disponible y una explotación original de los datos de la Encuesta sobre Discapacidad, Autonomía Personal y Situaciones de Dependencia (INE 2008) e incluye también información proveniente de una investigación cualitativa propia desarrollada por los autores.
This article deals with the understanding and quantification of the dependency constraints and support needs of Parkinson's disease and addresses its different negative consequences from a sociological perspective. Patient's social life is affected, with a reduction in his or her social network, as well as a decline in its intensity and quality. The everyday life of caregivers, usually the patient's spouse or daughter, also becomes deteriorated, since they take on a great deal of additional work. The analysis, focused in Spain, includes a review of the significant literature and available documentation, develops an analysis of original data from the Survey of Disability, Personal Autonomy and Dependency Situations (INE, 2008) and also includes information from the author's own qualitative research.
Collections