Publication:
Factores para la puesta en marcha y el éxito de microempresas asociativas creadas por jóvenes egresados universitarios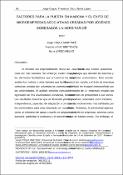 Advisors (or tutors)
Editors
Publisher
Facultad de Ciencias Económicas y Empresariales. Escuela de Estudios Cooperativos
Abstract
El fomento del emprendimiento desde las universidades es una función académica cada vez más valorada. Sin embargo, existen muy pocos trabajos que aborden las barreras y los elementos facilitadores que encuentran los emprendedores universitarios. Este estudio analiza los motivos y otros factores que facilitan la puesta en marcha y el éxito de empresas colectivas creadas por universitarios poniendo especial énfasis en el papel desempeñado por las universidades. El análisis empírico consistió en el estudio de 13 empresas creadas por egresados de tres universidades españolas, mediante entrevistas en profundidad a sus socios. Los resultados muestran que el desarrollo profesional y valores personales como iniciativa, independencia, capacidad de adaptación y constancia son las motivaciones más señaladas por los universitarios para crear empresas con sus compañeros. Asimismo, la universidad aparece como un elemento de apoyo a través de asignaturas de creación de empresas, servicios como asesoría, publicidad o contactos y el conocimiento mutuo de futuros socios. Sin embargo, el análisis revela que aún queda mucho camino por recorrer en las universidades para lograr una promoción más eficaz.
The promotion of entrepreneurship from the universities is an increasingly valued academic function. However, few papers explore the barriers and facilitating elements that university entrepreneurs face. This study analyses the motivation and other factors that ease the setting up and success of collective firms created by university students, with special emphasis in the role played by universities. The empirical analysis is based on the study of 13 companies created by graduates from three Spanish universities, throug in depth interviews to its members. The results show that the professional development and personal values like initiative, independence, adjustment capacity and perseverance are the most pointed out motivations by university students to create a firm with their classmates. Likewise, university appears as an element of support with entrepreneurship courses, services as advising, advertising or contacts, and the mutual knowledge of future partners. Nevertheless, the analysis reveals that much work is still needed if universities want to offer an effective promotion.
Description
REVESCO Nº 112 - Extraordinario en Homenaje al Profesor Alfonso Carlos MORALES GUTIÉRREZ
Citation
BROWN, J.; BAKER, L. (1989). Co-operative Training & Development. London: London Co-operative Training. COMISIÓN DE LAS COMUNIDADES EUROPEAS (2003). Libro verde El espíritu empresarial en Europa. Bruselas: Comisión de las Comunidades Europeas. COQUE, J.; FALAGÁN, B.; FERNÁNDEZ, B.; GARCÍA, S., LÓPEZ, N.; LOREDO, E.; NOVELLE, J. (2007). Fomento del espíritu emprendedor en la Universidad de Oviedo en colaboración con el Ayuntamiento de Gijón. Gijón: Ayuntamiento de Gijón. COQUE, J.; LÓPEZ, N.; LOREDO, E. J. (2006). Fomento de la cultura emprendedora e innovadora entre el alumnado universitario del campus politécnico de Gijón. Forum Calidad, 177, 42-50. CORNFORTH, C.; THOMAS, A. (1990). Cooperative Development: Barriers, Support Structures and Cultural Factors. Economic and Industrial Democracy, 11, 451-461. DE MIGUEL, M. (2005). Cambio de paradigma metodológico en la Educación Superior. Exigencias que conlleva. Cuadernos de Integración Europea, 2, 16-27. ENTRIALGO, M.; FERNÁNDEZ, E.; VÁZQUEZ, C.J. (2001). El comportamiento emprendedor y el éxito de la PYME: modelos de contingencia y configuraciones. Dirección y Organización, 25, 47-58. GARCÍA-GUTIÉRREZ, C. (1991). La economía social o la economía de las empresas de participación (las sociedades cooperativas y laborales). En: VV.AA., En memoria de María Angeles Gil Luezas. Madrid: Alfa Centauro, 195-216. HUNT, G.C. (1992). Division of Labour, Life Cycle and Democracy in Worker Co-operatives. Economic and Industrial Democracy, 13, 9-43. KELMAR, J.H.; WINGHAM, L.W. (1995). Determining the Relevant Factors in the Success Strategies of Small Enterprises. The Journal of Entrepreneurship, 4(2), 215-236. LALKAKA, R. (1997). Lessons from international experience for the promotion of business incubation systems in emerging economies. Viena: United Nations Industrial Development Organization. MILLET, J. (2008). La Universidad crea empresa: claves de las spin-off. Ponencia Día del Emprendedor, Mieres. MORALES, A.C. (1998). Competencias y valores en las empresas de trabajo asociado. Valencia: CIRIEC-España. MORALES, A.C. (1996). Ineficiencia del mercado y eficacia de las cooperativas. Valencia: CIRIEC-España. PRÉFONTAINE, J.; LÉGER, L. (1981). Los problemas financieros durante la evolución de las cooperativas. En: M. LAFLAMME (Ed.), Gestión moderna de cooperativas. Santafé de Bogotá: Fondo Nacional Universitario, 197-225, 1990. Versión en español de: La gestion moderne des coopératives, Montreal: Gaëtan Morin. RAFFA, M.; ZOLLO, G.; CAPONI, R. (1996). The Development Process of Small Firms. Entrepreneurship and Regional Development, 8(4), 359-371. RODEIRO, P.; FERNÁNDEZ, S.; OTERO, L.; RODRÍGUEZ, A. (2010). Factores determinantes de la creación de spin-offs universitarias. Revista Europea de Dirección y Economía de la Empresa, 19 (1), 47-78. RUIZ-OLABUÉNAGA, J. I. (1999). Metodología de la investigación cualitativa. Bilbao: Deusto. RUTHERFORD, M.W.; OSWALD, S.L. (2000). Antecedents of Small Business Perfomance. New England Journald of Entrepreneurship, 3(2), 21-33. SALINAS, J. (2004). Innovación docente y uso de las TIC en la enseñanza universitaria. Revista Universidad y Sociedad del Conocimiento, 1, noviembre. SINGH, R.P.; HYBELS, R.C.; HILLS, G.E. (2000). Examining the Role of Social Network Size and Structural Holes. New England Journal of Entrepreneurship, 3(2), 47-58. SOMMER, B. y SOMMER, R. (1997). Practical Guide to Behavioural Research. Nueva York: Oxford. STRAUSS, A. y CORBIN, J. (1998). Basics of Qualitative Research. Techniques and Procedures for Developing Grounded Theory. Londres: Sage Publications. TRUSEN, C. (1994). Descentralización y participación: el rol de las organizaciones de autoayuda. En: VV.AA., Memorias del Seminario-Taller Internacional El Desarrollo Rural en América Latina hacia el Siglo XXI. Tomo I. Santafé de Bogotá: Pontificia Universidad Javeriana, 165-180. VALNALÓN (2000a). Cadena de formación de emprendedores. Memoria 1987-2006. Langreo: Ciudad Industrial del Valle del Nalón. VALNALÓN (2000b). Detección, apoyo y formación de emprendedores universitarios. Langreo: Ciudad Industrial del Valle del Nalón. VARGAS, A. (1995). La identidad cooperativa y la cooperativa como empresa: luces y sombras. Revista de Estudios Cooperativos (REVESCO), 61, 179-192. VECIANA, J.M. (1999). Creación de empresas como programa de investigación científica. Revista Europea de Dirección y Economía de la Empresa, 8(3), 11-36. YIN, R.K. (2009). Case Study Research: Design and Methods. Fourth Edition. California: SAGE Publications.
Collections