Publication:
La economía social en clave internacional. Cuantificación, reconocimiento institucional y visibilidad social en Europa, Iberoamérica y Norte de África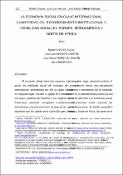 Advisors (or tutors)
Editors
Publisher
Facultad de Ciencias Económicas y Empresariales. Escuela de Estudios Cooperativos
Abstract
El presente trabajo tiene tres mayores objetivos: en primer lugar, pretende analizar elgrado de visibilidad social del concepto de economía social desde una perspectiva internacional, entendiendo por ello su grado de conocimiento y percepción por la sociedad. En segundo lugar, estudiar su grado de institucionalización en el ordenamiento jurídico ya sea con leyes, políticas de fomento o con órganos específicos de atención a la economía social. Finalmente, pretende cartografiar cuantitativamente la economía social, trazando las dimensiones macroeconómicas de este tercer sector de las economías. El ámbito geográfico abordado son los países de la Unión Europea, Iberoamérica y Norte de África. Se parte de la concepción de economía social acuñada en la literatura científica y recientemente sancionada en la nueva legislación en la materia.
The present work has three major goals: first, it aims at analysing the degree of social visibility of the concept of social economy from an international perspective, understanding by social visibility their level of awareness and perception by the society. Secondly, to study its degree of institutionalization in the legal framework either with laws, policies or building with specific bodies dedied to the social economy.
Description
Vol 112 (2013) Homenaje al Profesor Alfonso Carlos Morales Gutiérrez
Citation
A.A.V.V. Cuadernos de economia social, nº 16 (2006), En Homenaje al Doctor Arturo Octavio Ravina, Instituto Argentino de Investigaciones de Economia Social y Fundibes. ALIANZA COOPERATIVA INTERNACIONAL PARA LAS AMÉRICAS (2009). La Legislación cooperativa en los países de México, Centroamérica y el Caribe. ACI – Américas. San José, Costa Rica. ALIANZA COOPERATIVA INTERNACIONAL PARA LAS AMÉRICAS (2009). La Legislación cooperativa en los países andinos, San José de Costa Rica, ACI – Américas. BAREA, J. (1990). Concepto y agentes de la economía social, CIRIEC-ESPAÑA, revista de Economía Pública, Social y Cooperativa, nº 8, p. 109-117. BAREA, J. y MONZÓN, J.L. (1995). Las cuentas Satélite de la Economía Social en España; una primera aproximación, Valencia: CIRIEC-España editorial. BAREA, J. y MONZÓN, J.L. (2006). CIRIEC. Manual for Drawing Up the Satellite Accounts on Cooperatives and Mutual Societies. European Commission. Enterprise and Industry Directorate General. BOUCHARD, M. (2010). CIRIEC (ed). The worth of the Social Economy. An international Perspective. Peter Lang. BORZAGA, C. Y DEFOURNY, J. (eds) (2001). The emergence of Social Enterprise. London: Routledge. CARRASCO, I. (dir) (2009). Diccionario de economía social, Madrid: Ecobook editorial. CECOP (2006). Social enterprises and worker cooperatives: Comparing models of corporate governance and social Inclusion, CECOOP European Seminar, Manchester. CEPES y AECID (2008). Economía social en el Magreb. La situación de Marruecos y Túnez. S.d. CIRIEC (2000). The Enterprises and Organizations of the Third System: A strategic challenge for employment. Liege: CIRIEC– DG V of the European Union, (edición en español: CIRIEC, Economía Social y Empleo en la UE, Madrid: Ministerio de Trabajo y Asuntos Sociales). COMMISSION OF THE EUROPEAN COMMUNITIES (1997). Promotion Of The Role Of Asociations And Foundations In Europe, Luxembourg, Office of official publication of the European Communities. Com (97) 241 Final. COMISIÓN EUROPEA (1989). Comunicación al Consejo "Las Empresas de la Economía Social y la realización del Mercado Europeo sin Fronteras". COMISIÓN DE LAS COMUNIDADES EUROPEAS. Comunicación al Consejo, al Parlamento Europeo, al Comité Económico y Social Europeo y al Comité de las Regiones sobre fomento de las cooperativas en Europa (23 Febrero 2004, Com(2003)18). CORAGGIO, J.L. (1995). Desarrollo humano, economía popular y educación, Buenos Aires: Instituto de Estudios y Acción Social. CORAGGIO, J.L. (1997) Alternativas para o desenvolvimiento humano en un mundo globalizado, Revista proposta, nº 72, p. 30-38. CHAVES, R. (1999). La Economía Social como enfoque metodológico, como objeto de estudio y como disciplina científica", Ciriec-España, revista de economía pública, social y cooperativa, nº 33, p. 115–140. CHAVES, R. y DEMOUSTIER, D. (dir) (2013). The emergence of social economy in public policy. An international perspective, Bruxelles: Peterlang publishers. CHAVES, R., FECHER, F. y MONZON, J.L. (ed) (2012). Recent trends in Social Economy research, Annals of Public and Cooperative Economics, Vol. 83, nº 3. CHAVES, R. y MONZÓN, J.L. (2008). EESC/CIRIEC. The Social Economy in the European Union, European Economic and Social Committee, Bruxelles. CHAVES, R. y MONZÓN, J.L. (2012). Beyond the crisis: the social economy, prop of a new model of sustainable economic development, Service business – an international journal, nº 6, p. 5-26. CHAVES, R. y PEREZ DE URALDE, J.M. (dir) (2012). La economía social y la cooperación al desarrollo. Una perspectiva internacional, Valencia: Edl Universidad de Valencia. DEFOURNY, J. y MONZÓN, J.L. (eds.) (1992). Économie sociale (entre économie capitaliste et économie publique) / The Third Sector (cooperatives, mutual and nonprofit organizations). Bruxelles : De Boeck Université – CIRIEC. DEFOURNY, J. y NYSSENS, M. (2011). Approches européennes et américaines de l'entreprise sociale: une perspective comparative, Revue internationale de l'économie sociale, nº 319. DEMOUSTIER, D., CHAVES, R., HUNCOVA, M., Lorenz, G. y SPEAR, R. (2006). Débats autour de la notion d'économie sociale en Europe, Revue Internationale de l'économie sociale, nº 300, p. 8-18. DEMOUSTIER, D. (2011). L'économie sociale et solidaire. S'associer pour entreprendre autrement, Paris : Alternatives économiques/Syros. FAJARDO, G. (2012). El fomento de la economía social en la legislación española, REVESCO, Revista de Estudios Cooperativos, nº 107, p. 58-97. FONTANEAU, B.; MORAIS, L.; et al. (2010). Social and Solidarity Economy: building a common concept. Reader 2010 – 1st. International Academy of SSE. ITCILO – Turin. FUNDIBES (2010). Anuario iberoamericano de la economía social, Valencia: Fundibes. GRIJPSTRA, D. et al. (2011). The role of mutual societies in the 21st century; IP/A/EMPL/ST/2010-004, PE 464.434; European Parlament Directorate General For Internal Policies; Policy Department A: Economic And Scientific Policy. GUESLIN, A. (1987). L´invention de l´Economie Sociale, Paris: Economica. HIGHER COUNCIL FOR CO-OPERATION OF FRANCE (2001). Co-operative movements in the European Union, Paris: DIES. JIMÉNEZ, J. y MORALES, A.C. (2011). Social economy and the fourth sector, base and protagonist of social innovation, CIRIEC-España, revista de economía pública, social y cooperativa, nº 73, p. 33-60. JULIA, J.F. y CHAVES, R. (ed) (2012). Social economy: a responsible people-oriented economy, Special issue, Service Business, an international journal, Vol. 6, nº 1. KINGDON, J. W. (1987). Agendas, alternatives and public policies, Boston, Longman. LAVILLE, J.L. (1994). L´Économie solidaire. Une perspective internationale, París: Desclée de Brouwer. LIANZA, S. y CHEDID, F. (orgs) (2012). A economia solidária na América Latina: realidades nacionais e políticas públicas, Rio de Janeiro : Pró Reitoria de Extensão UFRJ. MELIAN, A., CAMPOS, V. y SANCHIS, J.R. (2011). Emprendimiento social y empresas de inserción en España, REVESCO, Revista de Estudios Cooperativos, nº 106, p. 150-172. MONZÓN, J.L. (1987). La Economía Social en España, CIRIEC-España, nº 0, p. 19-29. MONZÓN, J.L. (dir) (2009). Informe para la elaboración de una Ley de fomento de la economía social en España, Madrid: Ministerio de Trabajo e Inmigración. MONZÓN, J.L. (dir) (2010). Economía Social y su impacto en la generación de empleo. Claves para un desarrollo con equidad en América Latina. Estudios referidos a Argentina, Brasil, Chile, Colombia, España y Uruguay. Madrid : Edl. Fundibes. MONZÓN, J.L. et al. (dir) (2003). El Tercer sector no lucrativo en el Mediterráneo. La Economía Social de no mercado. I. España, Francia, Grecia, Italia y Portugal, Valencia: CIRIEC-España. MONZÓN, J.L. y BAREA, J. (2007). Manual de orientación para la elaboración de una cuenta satélite de las empresas de la Economía Social. Brussels: European Commission. MONZON, J,L. y CHAVES, R. (2012). EESC/CIRIEC. La Economía Social en la Unión Europea. Bruselas: Comité Económico y Social Europeo. MONZÓN, J.L. y MARCUELLO, C. (2012). Economía Social y Empresas Sociales, CiriecEspaña, revista de economía pública, social y cooperativa, nº 75, Monográfico. MONZÓN, J.L. y CHAVES, R. (2008). The European Social Economy: concept and dimensions of the third sector, Annals of Public and Cooperative Economics, 79, nº 3, p. 549-577. MUNKNER, H. (1993). Panorama d'une économie sociale qui ne se reconnaît pas comme telle: le cas de l'Allemagne, RECMA, nº 44-45, p. 101-133. NOYA, A. y CLARENCE, E. (ed) (2007). The Social Economy: Building inclusive economies, Paris: OECD. NOYA, A. y NATIVEL, C. (ed) (2003). The non profit sector in a changing economy, Paris: OECD. OIT (2002). Recomendación sobre Promoción de las Cooperativas (Recomendación 193/2002) OIT - Organización Internacional del Trabajo. PALOMO, R., SANCHIS, J.R. y SOLER, F. (2010). Las entidades financieras de economía social ante la crisis financiera, REVESCO, Revista de Estudios Cooperativos, nº 100, p. 101-133. PARLEMENT EUROPEEN (2009). Rapport sur l'économie sociale (Informe Toia)- Parlement, (2008/2250 /INI). PEREZ DE URALDE, J.M. (coord) (2001). Economía Social e Iberoamérica: La Construcción de un Espacio Común, Madrid: Fundibes. PEREZ DE URALDE, J.M. (dir) (2006). La Economía Social en Iberoamericana. Un acercamiento a su realidad Vol. 1, Valencia: Fundibes. PEREZ DE URALDE, J.M. (coord.) (2011). Reformas legislativas en el derecho social y solidario iberoamericano, Valencia: Ed. Fundación Divina Pastora, Pontificia Universidad Javeriana y Fundación Iberoamericana de la Economía Social (Fundibes). PEREZ DE URALDE, J.M. Y RADRIGÁN, M. (dir) (2006). La Economía Social en Iberoamericana. Un acercamiento a su realidad Vol. 2. Valencia: Fundibes. PERRI, 6. y PESTOFF, V.A. (1993). La recherche sur le Third Sector en Europe: directions et perspectives, Revue des Etudes Coopératives, Mutuelles et Associatives, nº 9, p. 50-68. POWELL, W. (Ed) (1987). The Nonprofit Sector. A Research Handbook. New Haven and London: Yale University Press. RADRIGÁN, M. (coord) (2008). La economía social en Iberoamérica. Realidad y proyecciones. Una visión comparada, Valencia: Fundibes. RADRIGÁN, M. (coord), BUCHELI, M., PEREIRA, L. et al. (2012). La Economía social en España, Iberoamérica y países del Magreb", en Chaves, R. Y Perez De Uralde, J.M. (dir), op. cit., Capítulo 3. RADRIGÁN, M. (coord.) (2011). Manual de buenas prácticas de la economía social y el empleo en América Latina, Valencia : Ed. Fundación Divina Pastora y Fundibes. SALAMON, L.M. y ANHEIER, H.K. (1997). Defining the nonprofit sector — a crossnational analysis, Institute for Policy Studies, The Johns Hopkins University. SINGER, P. (1997). Economia solidaria: geraçao de renda e alternativa ao liberalismo, Revista proposta, nº 72, p. 5-13. TOMAS-CARPI, J.A. (1997). The prospects for a Social Economy in a changing world, Annals of Public and Cooperative Economics, Vol. 68, nº 2, p. 247-279. UNITED NATIONS (2003). Handbook on Non Profit Institutions in the System of National Accounts. Series F, No. 91. New York: United Nations (Department of Economic and Social Affairs - Statistics Division). VIENNEY, C. (1994). L'Economie sociale, Paris : La Découverte. VIVET, D. y THIRY, B. (2000). Field of study, quantitative importance and national acceptations, en: CIRIEC (2000), op. cit. Capítulo 1. WEISBROD, B.A. (1988). The Nonprofit Economy, Mass., Cambridge: Harvard University Press. http://www.aciamericas.coop http://www.mercosur.coop http://www.oibescoop.coop
Collections