Publication:
Modelos meteorológicos de alta resolución aplicados a la predicción de ondas de montaña y condiciones de engelamiento para la mejora de la seguridad aérea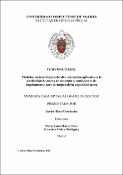 Files
Authors
Advisors (or tutors)
Martín Pérez, María Luisa
Editors
Publisher
Universidad Complutense de Madrid
Abstract
Las ondas de montaña son un tipo de ondas de gravedad que se forman a sotavento de los principales sistemas montañosos en determinadas condiciones. La turbulencia y el engelamiento son fenómenos meteorológicos adversos asociados a este tipo de ondas que pueden comprometer a la seguridad aérea. No en vano, la turbulencia asociada a ondas de montaña y el engelamiento han sido citados como la causa de numerosos accidentes de aviación. Actualmente aún existe bastante incertidumbre en el pronóstico de eventos de ondas de montaña, lo que dificulta la anticipación a los mismos. La disponibilidad de datos observacionales directos es el mayor hándicap en el estudio de las ondas de montaña, ya que es muy difícil obtener mediciones fiables en su zona de formación. Consecuentemente, para el estudio de este fenómeno en esta tesis doctoral se ha utilizado la nubosidad asociada a ondas de montaña como método observacional...
Mountain waves are a kind of gravity waves that form in the leeward side of the major mountain ranges under certain conditions. Turbulence and icing are adverse meteorological phenomena associated with these types of waves that can affect the aviation safety. Not surprisingly, turbulence and icing associated with mountain waves have been reported as the cause of numerous aircraft accidents.Currently, the forecast of mountain wave events is not completely accurate, which makes it difficult to anticipate them. The lack of direct observational data is the greatest inconvenience in the mountain waves study since it is very difficult to obtain reliable measurements in the mountain waves formation area. Consequently, for the study of this phenomenon in this thesis, cloudiness associated with mountain waves has been used as an observational method...
Description
Tesis inédita de la Universidad Complutense de Madrid, Facultad de Ciencias Físicas, leída el 09-12-2021
Collections