Publication:
Inmunoregulación en trasplante renal por células mieloides supresoras y células B reguladoras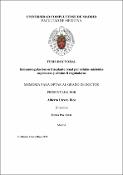 Files
Authors
Advisors (or tutors)
Editors
Publisher
Universidad Complutense de Madrid
Abstract
El trasplante renal es la mejor opción terapéutica para los pacientes con enfermedad renal crónica avanzada (ERCA). La mejora en sus resultados ha sido, en gran medida, posible gracias a los fármacos inmunosupresores, con los que se ha evitado la respuesta del sistema inmunológico sobre el injerto pero que dan lugar a múltiples complicaciones como infecciones y cáncer. A pesar de ello, siguen existiendo rechazos y la supervivencia del injerto a largo plazo sigue siendo subóptima. Esto hace necesaria la búsqueda de nuevos biomarcadores no invasivos que detecten de forma precoz el rechazo y el deterioro del injerto, así como otras complicaciones. Recientemente, se han identificado poblaciones celulares minoritarias del sistema inmunológico con potentes capacidades inmunoreguladoras que podrían tener un papel importante en la tolerancia del injerto. Entre estas poblaciones celulares se encuentran las células supresoras de estirpe mieloide monocíticas (M‐MDSC), con potentes funciones inmunosupresoras sobre las respuestas inmunes, y los linfocitos B reguladores (IL10+Breg), capaces de producir interleucina (IL)10 e inhibir la función efectora de los linfocitos T...
Kidney transplantation is the best therapeutic option for patients with end‐stage renal disease (ESRD). Despite the improvement in results has been mostly possible thanks to the use of immunosuppressive drugs which avoid immune response against the allograft, rejections still happen, the long‐term graft survival remains suboptimal,and drug‐induced immunesuppression associated with complications such as infections and cancer. This makes it necessary to search for new non‐invasive biomarkers that predict graft rejection and deterioration, as well as other complications. Recently, minority cell populations with powerful immmunoregulatory capacities have emerged which could play an important role in graft tolerance. These populations include the monocytic myeloid derived suppressor cells (M‐MDSC), which have potent immunosuppressive effects on the immune responses, and regulatory B lymphocytes (IL10+Breg), which can produce IL10 and inhibit the effector function of T lymphocytes...
Description
Tesis inédita de la Universidad Complutense de Madrid, Facultad de Medicina, leída el 12-11-2021
Collections