Publication:
Estudio comparativo de las propiedades corneales y su influencia en la tonometría portátil de rebote y aplanación en sujetos sanos y pacientes con glaucoma primario de ángulo abierto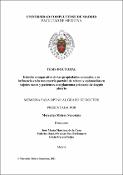 Files
Authors
Advisors (or tutors)
Martínez de la Casa, José María
Sáenz-Francés San Baldomero, Federico
Editors
Abstract
El glaucoma primario de ángulo abierto (GPAA) es una neuropatía óptica progresiva y multifactorial considerada la segunda causa de ceguera en Europa y en el mundo.La presión intraocular (PIO) es el principal factor modificable, por eso las medidas deben ser fiables y reproducibles.Durante los últimos años se han desarrollado nuevos dispositivos, que tratan de superar algunas de las limitaciones de la tonometría convencional, tales como la tonometría de rebote o de no contacto.La tonometría de rebote toma la PIO empleando una sonda magnética solenoide que rebota en la córnea, siendo la PIO es proporcional a los cambios de velocidad que se producen en el rebote. No precisa la instilación de colirios, la adquisición de medidas es rápida, precisa escasa colaboración del paciente, es independiente de la posición, permitiendo la toma de PIO en decúbito, en exploraciones preoperatorias o intraquirúrgicas. Presenta muy buena reproducibilidad y excelente correlación con Goldmann.Icare TA01 e PRO fueron los primeros dispositivos de rebote, sin embargo, el desarrollo del nuevo ic100 (Icare, Oy, Finland) ofrece una serie de ventajas respecto a los previos. La principal es la facilidad de uso, pues dispone de un indicador LED que cambia de rojo a verde cuando el dispositivo se coloca correctamente perpendicular a la córnea. Este dispositivo recoge un registro de las medidas para su análisis posterior...
Primary open angle glaucoma (POAG) is a progressive and multifactorial optic neuropathy considered the second cause of blindness in Europe and in the world.Intraocular pressure (IOP) is the main modifiable factor, that is why the measurements must be reliable and reproducible.In last few years, new devices such as rebound or non-contact tonometry have been developed trying to overcome some of the limitations of conventional tonometry.Rebound tonometry measures IOP thanks to a solenoid magnetic probe that bounces off the cornea the deceleration induces voltage and this value is transformed in the IOP measurement. It does not require the instillation of anesthetic drops, the acquisition of measurements is fast, it requires little collaboration from the patient, it is independent of the position, allowing checking IOP in decubitus, preoperative or intrasurgical examinations. It has very good reproducibility and excellent correlation with Goldmann...
Description
Tesis inédita de la Universidad Complutense de Madrid, Facultad de Medicina, Departamento de Oftalmología y Otorrinolaringología, leída el 14-12-2021
Collections