Publication:
"Mansura", de Félix de Azúa, o cuando Pierre Menard escribió la "Vida de San Luis" de Joinville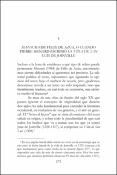 Advisors (or tutors)
Editors
Abstract
Mansura (1993) es uno de los textos más singulares de Félix de Azúa, difícil de comparar con otras obras de la literatura española contemporánea. En principio, podría ser leído como una novela histórica, pero una aviso al lector nos señala que se trata, en esencia, de una traducción de la Vie de Saint Louis (c.1309) de Jean de Joinville, a su vez una de las obras más destacadas en la prosa medieval francesa. En este breve estudio se señala un procedimiento de composición semejante al Pierre Menard de Jorge Luis Borges, si bien el texto se añaden elementos paródicos que sobre todo se relacionan con la adaptación a tierra y contextos catalanes.
Mansura (1993) is one of the most singular texts written by Félix de Azúa, a work that is difficult to compare with other contemporaries spanish narrations. At first sight, can be read as a historical novel, but in the prologue it is affirmed that, in fact, is a "translation" of the Vie de Saint Louis (c.1309) by Jean de Joinville, of of the most important works in the French medieval prose. In this short study it is showed that the way of composition is similar to Pierre Menard' s, the famous Jorge Luis Borges figure, although in this case we can find parodic elements related to the adaptation to catalonian spaces and contexts.
Collections