Publication:
Cambio político en los países mediterráneos del norte de África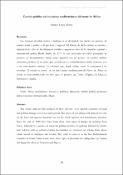 Authors
Advisors (or tutors)
Editors
Publisher
Universidad Complutense de Madrid
Abstract
Las recientes revueltas árabes, complejas en su diversidad, han abierto un proceso de cambio social y político a la par local y regional. El alcance de dicho cambio es incierto y dependerá no sólo de las dinámicas sociales y regionales sino de la situación regional e internacional global. Desde finales de 2010 se han producido tres tipos principales de proceso: (a) levantamientos desde abajo, seguidos por un proceso de cambio político reformista pacífico; (b) revueltas que desembocan en enfrentamientos civiles violentos, con o sin intervención exterior; (c) reformas que, desde arriba, tratan de anticiparse a las revueltas. El estudio se centra en los cinco países mediterráneos del Norte de África en donde se están produciendo los tres tipos de proceso: (a), Túnez y Egipto, (b) Libia, (c) Marruecos y Argelia.
The recent Arab revolts, complex in their diversity, have opened a process of social and political change, both local and regional. The scope of that change will depend not only on the local and regional dynamics but on the whole regional and international situation. Since the end of 2010 there have been three main types of change: (a) uprisings from below, followed by a process of moderate political reform; (b) uprisings followed by clashes and violence, with or without exterior intervention; (c) processes of reform from above which intend to anticipate the revolts. The study is centered in the five Mediterranean countries of North Africa where these three types of processes are taking place: (a) Tunisia and Egypt (b) Libya, (c) Morocco and Algeria.
Collections