Publication:
Análisis de ingresos hospitalarios por asma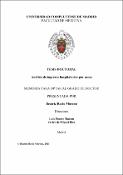 Authors
Advisors (or tutors)
Editors
Publisher
Universidad Complutense de Madrid
Abstract
El asma bronquial es una enfermedad crónica, con gran repercusión sobre la calidad de vida de los pacientes. Los ingresos hospitalarios por exacerbaciones de esta enfermedad consumen un elevado número de recursos sanitarios. Por lo tanto, conocer las características de los pacientes hospitalizados por esta causa, así como los factores de riesgo asociados a las agudizaciones, puede favorecer el control de la enfermedad, disminuyendo las visitas a urgencias y los ingresos hospitalarios. Objetivos Caracterizar al paciente asmático ingresado en el Servicio de Neumología del Hospital General Universitario Gregorio Marañón desde el 1 de enero de 2016 hasta el 31 de diciembre de 2018 por una agudización de su enfermedad. Describir los patrones de prescripción en vida real en función del diagnóstico del asma, según la guía GINA, y valorar la adecuación del tratamiento de los pacientes a las guías de práctica clínica. Evaluar los resultados de los ingresos hospitalarios por asma teniendo en cuenta la estancia hospitalaria, los reingresos, los factores asociados a los mismos y la mortalidad. Material y métodos Estudio retrospectivo, observacional y longitudinal de los pacientes hospitalizados por exacerbación asmática durante el periodo de estudio. Se recogieron las características clínicas, las pruebas de función pulmonar, el tratamiento de la enfermedad y las comorbilidades. Además, se registraron los reingresos en los seis meses posteriores al alta hospitalaria...
Bronchial asthma is a chronic disease with a great impact on the quality of life of patients. Hospital admissions for asthma exacerbations have a high impact on healthcare resource consumption. Therefore, describing the clinical characteristics of hospitalized patients, as well as identifying the risk factors associated with asthma exacerbations, can improve disease control and prevent emergency room visits and hospital admissions.ObjectivesCharacterize the asthmatic patient admitted to the Respiratory Service of the Gregorio Marañón General University Hospital from January 1, 2016, to December 31, 2018, due to exacerbations of this disease. Describe prescribing patterns of asthma treatment in real life based on the asthma diagnosis, according to the GINA guidelines, and the compliance of the treatment of patients with clinical practice guidelines. Evaluate the results of hospital admissions for asthma in terms of hospital stay, readmissions, associated factors and mortality.Materials and methodsRetrospective, observational and longitudinal study of patients hospitalized for asthma exacerbation during the study period. We collected clinical characteristics, pulmonary function tests, disease treatment and comorbidities. In addition, we recorded the number of readmissions within six months after hospital discharge...
Description
Tesis inédita de la Universidad Complutense de Madrid, Facultad de Medicina, leída el 30-11-2021
Collections