Publication:
Estudio de las alteraciones de la inmunidad celular en pacientes sometidos a distintas terapias biológicas utilizadas en el trasplante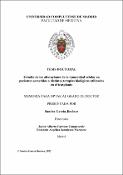 Files
Authors
Advisors (or tutors)
Editors
Publisher
Universidad Complutense de Madrid
Abstract
La administración de agentes terapéuticos frente a la alorespuesta inmune que se desencadena tras el trasplante de órgano sólido humano (TOS), incluye terapias de inducción como los anticuerpos monoclonales anti receptor de interleucina 2 (anti IL2R o anti CD25) u otros anticuerpos policlonales. En el período peritrasplante se administran de forma estandarizada corticoides, inhibidores de la calcineurina (CNI) y fármacos antiproliferativos como micofenolato o inhibidores de m-TOR. Estos fármacos incrementan el riesgo de infecciones y neoplasias. La efectividad del régimen de inmunosupresión de dos dosis (2D) de basiliximab (BAS)se determinó inicialmente en trasplantados renales, y se trasladó su uso a otros tipos deTOS confiriendo una inmunoprofilaxis entre 4 a 6 semanas. Se desconoce si la administración de 1 Dosis (1D) de BAS se correlaciona con menor duración y mayores complicaciones en el post-trasplante cardíaco (TC). No existen estudios que comparen la cinética de expresión de CD25 en diferentes subpoblaciones de linfocitos T en tratamientos con basiliximab (BAS) o daclizumab (DAC)...
Administration of therapeutic agents against the immune response that is triggered after solid organ trasplantation (SOT), includes monoclonal antibodies (anti IL2R o anti CD25) and other polyclonal antibodies (antithymocyte or antilymphocyte globulins) are used in the induction phase. In the peri-transplant period, other agents such as corticosteroids, calcineurin inhibitors (CNI) and mTOR inhibitors are also administered sequentially and progressively. These drugs reduce the response to the graft, but also increase the risk of infections and neoplasms. The effectiveness of the two-dose immunosuppression regimen of basiliximab (BAS) was initially determined in kidney transplant recipients, and its use was transferred to other types of TOS, conferring immunoprophylaxis between 4 to 6 weeks. It is currently unknown whether a single dose is correlated with shorter duration and greater complications in post-CT (heart transplantation). There are no studies that compare the different kinetics of CD25 expression in different subpopulations of T lymphocytes for both anti-CD25 antibodies...
Description
Tesis inédita de la Universidad Complutense de Madrid, Facultad de Medicina, leída el 16-02-2022
Collections