Publication:
Metabolomic profile of neuroendocrine tumors of gastrointestinal and pulmonary origin : prognostic role and biological relevance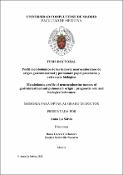 Files
Authors
Advisors (or tutors)
Editors
Publisher
Universidad Complutense de Madrid
Abstract
Reprogrammed metabolism encompasses the capacity of cells to respond or adapt their metabolic signalling to support and enable cell survival in unfavourable or hostile conditions. This ability is enhanced in cancer cells to improve their adaptive phenotype and maintain both viability and uncontrolled proliferation. Metabolic flexibility is therefore one of the key hallmarks of cancer, although pathways involved in the metabolic plasticity of each cancer type remain to be elucidated. Metabolites are the final products of this adaptation, reflecting the aberrant changes in the genomic, transcriptomic and proteomic variability of tumors, and therefore provide useful biological and clinical information on cancer biology. This, together with the fact that metabolomics can be easily performed in readily accessible biological samples (i.e. plasma, urine), makes metabolic profiling of cancer patients a promising tool to characterize the tumor phenotype and identify novel biomarkers of potential clinical use...
La reprogramación del metabolismo permite a las células para responder o adaptar su regulación metabólica para permitir la supervivencia celular en condiciones desfavorables u hostiles. Esta capacidad aumenta en las células cancerosas para mejorar su fenotipo adaptativo y mantener tanto la viabilidad como la proliferación incontrolada. Así, la flexibilidad metabólica es una de las características distintivas del cáncer, aunque todavía quedan por dilucidar las vías implicadas en la plasticidad metabólica de cada tipo de tumor. Los metabolitos son los productos finales de esta adaptación, que en último término reflejan los cambios aberrantes que sufren los tumores reflejando la variabilidad genómica, transcriptómica y proteómica de los mismos y, por lo tanto, proporcionando información relevante sobre la biología del cáncer. Además, el estudio de los perfiles de metabolitos (metabolómica) puede realizarse fácilmente en muestras biológicas de fácil acceso (plasma, orina), constituyendo así una herramienta prometedora para caracterizar el fenotipo tumoral e identificar nuevos biomarcadores de potencial utilidad clínica...
Description
Tesis inédita de la Universidad Complutense de Madrid, Facultad de Medicina, leída el 11-02-2022
Collections