Publication:
Curva de aprendizaje de la ecografía urológica practicada por personal no experimentado en una unidad docente pluriprofesional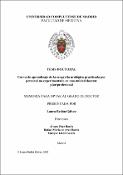 Files
Authors
Advisors (or tutors)
Editors
Publisher
Universidad Complutense de Madrid
Abstract
INTRODUCCION: la enseñanza de la ecografía urológica está sometida al más absoluto empirismo. Además, la formación con el concurso de urólogos experimentados en ecografía se convierte en una inversión sumamente gravosa en términos de coste de oportunidad. En ese sentido, cualquier operativo que obviara la necesidad del especialista como docente representaría un gran paso adelante. OBJETIVOS: el presente estudio pretende explorar las posibilidades de la formación en ecografía urológica cuando el módulo formativo se inserta en la rutina asistencial de un servicio de urología y actúan como docentes enfermeras ya cualificadas en ecografía. Además, y teniendo presente que el esquema didáctico propuesto tiene lugar en plena área de consultas, resulta imprescindible evaluar el alcance que puede tener en términos de satisfacción de los pacientes. Adicionalmente, por la ruptura de la dinámica asistencial que representa, es obligado indagar en el efecto que pudiera tener sobre la satisfacción profesional del personal involucrado. Finalmente, el estudio pretende establecer el coste de la formación en ecografía urológica de estudiantes de cuarto curso de medicina sin experiencia previa...
INTRODUCTION: teaching of urological ultrasonography remains entirely empirical; in addition, participation of professional urologists in this duty results in unaffordable costs. Hence, any scenario saving the participation of specialists could result in a reduction of expenses. OBJECTIVES: a novel learning unit was tested were experienced, well-trained nurses acted as monitors of ultrasonography for students of medicine without previous experience. Considering that the learning unit was inserted in the daily activities of the Urology department, it seemed mandatory to evaluate patients satisfaction with the interference. Additionally, bournout cases among the participants were searched. Finally, costs were analyzed...
Description
Tesis inédita de la Universidad Complutense de Madrid, Facultad de Medicina, leída el 02-02-2022
Collections