Publication:
Evaluación económica de la nutrición parenteral domiciliaria en el Hospital General Universitario Gregorio Marañón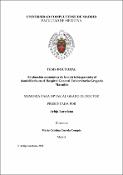 Files
Authors
Advisors (or tutors)
Editors
Publisher
Universidad Complutense de Madrid
Abstract
La nutrición parenteral domiciliaria (NPD) es una modalidad de soporte nutricional que permite la administración de la nutrición parenteral (NP) en el domicilio del paciente. El aumento del número de pacientes en los que se utiliza este tratamiento junto con el perfeccionamiento de las técnicas de asepsia y recursos utilizados en la NPD, han condicionado que este tratamiento se utilice cada vez con mayor frecuencia. En la literatura científica existen múltiples trabajos que han estudiado la NPD en todas sus esferas: cuidado de catéteres, monitorización y seguimiento, complicaciones, así como la calidad de vida de los pacientes con este tratamiento. El análisis de costes de la NPD merece una consideración especial. Aunque la NPD se ha estudiado desde un punto de vista económico, las categorías de costes generalmente incluidos fueron los costes directos, excluyéndose con frecuencia los costes personales y los costes de productividad. Los trabajos que abordan el estudio de costes de la NPD en España se basaron en registros voluntarios y no en una muestra real de casos y, además, no incluyeron los costes directos no sanitarios o el coste del seguimiento de estos pacientes. Además, las diferentes estructuras organizativas y estrategias de tratamiento de la NPD, combinadas con los diferentes métodos de análisis de costes, han dado como resultado una variedad de artículos originales cuyo objetivo era estudiar los costes de la misma. Sin embargo, hasta donde sabemos, no existe una revisión sistemática actualizada que proporcione una visión general de los costes económicos de la NPD...
Home parenteral nutrition (HPN) is a nutritional support modality that allows the administration of parenteral nutrition (PN) at the patient's home.The increase in the number of patients in whom this treatment is used, together with the improvement of aseptic techniques and resources used for HPN, have determined that this treatment is being used more and more frequently. In the scientific literature, there are works available that have studied HPN in all its domains: catheter care, monitoring and follow-up or the quality of life of patients with HPN.The cost analysis of HPN deserves special consideration. Although HPN has been studied from an economic point of view, the cost categories generally included were direct costs, and personal costs and productivity costs being frequently excluded. The studies that address the study of the costs of HPN in Spain were based on voluntary registries and not on a real sample of cases and, furthermore, they did not include direct non-healthcare costs or the cost of monitoring patients with HPN. Additionally, the different organisational structures and treatment strategies for HPN, combined with the different methods of cost analysis, have resulted in the publication of a variety of original articles whose objective was to study the costs of HPN. However, to our knowledge, there is no updated systematic review that provides an overview of the economic costs of HPN...
Description
Tesis inédita de la Universidad Complutense de Madrid, Facultad de Medicina, leída el 31-01-2022
Collections