Publication:
Bases anatomo-quirúrgicas de los ligamentos calcaneocuboideos y su implicación en la osteotomía de Evans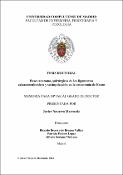 Files
Authors
Advisors (or tutors)
Editors
Publisher
Universidad Complutense de Madrid
Abstract
Una búsqueda en la literatura reveló que la principal complicación cuando se realiza la Osteotomía de Evans es la subluxación de la articulación calcaneocuboidea debido al daño a los ligamentos calcaneocuboideos. Además, no hay consenso en el punto de partida de la osteotomía. Se realizó un estudio en cadáver para determinar la longitud del origen delos ligamentos calcaneocuboideos y establecer así la distancia en la que no se dañan los ligamentos en espécimen anatómico. HIPÓTESIS Conforme a las referencias establecidas en la bibliografía nos planteamos la siguiente hipótesis nula:- Realizando la osteotomía de Evans a 15 mm de la articulación calcaneocuboidea, no se dañan los ligamentos calcaneocuboideos en ningún espécimen anatómico...
A search of the literature revealed that the main complication when performing the Evans Osteotomy is subluxation of the calcaneocuboid joint due to damage to calcaneocuboid ligaments. Furthermore, there is no consensus on the starting point of the osteotomy. A cadaver study was performed to determine the length of the origin of the calcaneocuboid ligaments and thus establish the safest distance to perform the Evans Osteotomy. HYPHOTESIS According to the references established in the bibliography, we consider the following null hypothesis:- Performing the Evans osteotomy 15 mm from the calcaneocuboid joint, the calcaneocuboid ligaments are not damaged in any anatomical specimen...
Description
Tesis inédita de la Universidad Complutense de Madrid, Facultad de Enfermería, Fisioterapia y Podología, Departamento de Enfermería, leída el 01-10-2021
Collections