Publication:
Wealth generation in the third world through financial education in the microcredit environment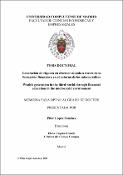 Files
Authors
Advisors (or tutors)
Editors
Publisher
Universidad Complutense de Madrid
Abstract
Global poverty and its relationship with financial inclusion and financial education provide the motivation for this research. Although extreme poverty has been declining for nearly 25 years, the World Bank estimates that there are still more than 800 million people that subsist on less than US 90 a day. Most of these individuals are unbanked and relay on local informal economies. Financial inclusion has been broadly recognized critical in alleviating poverty and achieving inclusive economic growth. Access to financial services is referred in at least five of the 17 Sustainable Development Goals (SDGs) set by the United Nations 2030 Agenda. Undeniably there is a close relationship between economic development and financial inclusion, however recent research suggests that having an account does not necessarily imply better financial health. Although much economic and financial literature has highlighted the importance of microfinance as a factor in development, there is also an intense debate about its effectiveness as a development tool. Some researchers even suggest that microcredit can have a negative impact on the most vulnerable...
La pobreza global y su relación con la inclusión financiera y la educación financiera son la motivación de esta investigación. Aunque la pobreza extrema ha ido disminuyendo durante los últimos 25 años, el Banco Mundial estima que todavía hay más de 800 millones de personas que subsisten con menos de 1,90 dólares al día. La mayoría de estas personas no están bancarizadas y dependen de la economía informal. Es ampliamente reconocido que la inclusión financiera es fundamental para aliviar la pobreza y lograr un crecimiento económico sostenible, como demuestra que el acceso a los servicios financieros está presente en al menos5 de los 17 Objetivos de Desarrollo Sostenible (ODS) establecidos por la Agenda 2030 de las Naciones Unidas. Aunque gran parte de la literatura económica y financiera ha destacado la importancia de las microfinanzas como factor de desarrollo, también existe un intenso debate sobre su eficacia. Investigaciones recientes apuntan que tener una cuenta bancaria no implica necesariamente una mejor salud financiera e incluso sugieren que puede tener un impacto negativo en los más vulnerables...
Description
Tesis inédita de la Universidad Complutense de Madrid, Facultad de Ciencias Económicas y Empresariales, leída el 09-12-2021
Collections