Publication:
Impacto en la demanda de los precios terminados en "9" y en "0" en el comercio multicanal de gran consumo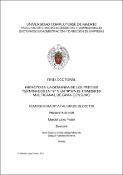 Files
Authors
Advisors (or tutors)
Editors
Publisher
Universidad Complutense de Madrid
Abstract
En un contexto en el que el comercio minorista está experimentando cambios extraordinarios en el entorno empresarial actual, presentando a los consumidores nuevas opciones entre las que elegir y dónde comprar (Gogoi 2017), muchos investigadores consideran que el comercio minorista multicanal es altamente beneficioso para lasempresas (Herhausen el al., 2015; Oppewal et al., 2013 Rangaswamy y Van Bruggen,2005; Wallace et al., 2004; Wind y Mahajan, 2002), y los minoristas se centran cada vezmás en las estrategias de precios. Al estudiar los datos de venta por escáner del panel dedetallistas de Nielsen, se ha observado que la elasticidad de la demanda era mayor cuando se cambiaba a un precio que terminaba en 9 que con un precio final diferente (Blattberg y Wisniewski, 1983). Investigaciones más recientes (Anderson y Simester, 2003; Ngobo et al., 2010; Macé, 2012) han analizado algunos factores como la comunicación de la promoción, categoría de producto, marca e incluso el país, que podrían explicar la variabilidad en los impactos de los precios que terminan en el número 9. Otras investigaciones han encontrado resultados controvertidos (Melis et al., 2015). La falta de estudios sobre los mercados emergentes de comercio electrónico es sorprendente teniendo en cuenta que la revolución digital podría cambiar nuestra comprensión del proceso de fijación de precios empresarial. Se podría argumentar que la falta de estudios completos en los mercados en línea puede explicarse por los problemas menos pronunciados de la comparación de precios al presentar menos dificultades cognitivas para memorizar y comparar productos de diferentes minoristas...
In a context where retail is undergoing extraordinary changes in the current business environment, presenting consumers with new options from which to choose, where to buy (Gogoi 2017), many researchers consider multichannel retail to be highly beneficial for companies (Herhausen el al., 2015; Oppewal et al., 2013 Rangaswamy and Van Bruggen 2005; Wallace et al., 2004; Wind and Mahajan, 2002), and retailers increasingly focus on pricing strategies..When studying the scanner data, it has been observed that the elasticity of demand was greatrer when changing to a price ending with 9 than with a different Price ending (Blattberg and Wisniewski, 1983)..More recent research (Anderson and Simester, 2003; Ngobo et al., 2010) have analysed some factors such as the communication of the promotion, product category, brand and even the country, that could explain the variability in the impacts of prices ending with the number 9. More recent investigations have found controversial results (Melis et al., 2015), with few studies examining these pricing strategies in the digital economy context, we focus on online sales markets. The lack of studies in emerging E-commerce markets is surprising given that the digital revolution could change our understanding of the business pricing process. It could be argued that the lack of comprehensive studies in online markets can be explained by the less pronounced problems of price comparison by presenting fewer cognitive difficulties in memorising and comparing products from different retailers...
Description
Tesis inédita de la Universidad Complutense de Madrid, Facultad de Ciencias Económicas y Empresariales, leída el 13-07-2021
Collections