Publication:
La construcción de la memoria familiar desde la fotografía del smartphone: un estudio etnográfico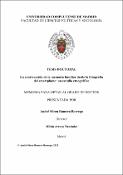 Files
Authors
Advisors (or tutors)
Editors
Publisher
Universidad Complutense de Madrid
Abstract
La presente investigación aborda el cómo se construye la memoria familiar fotográfica a través del smartphone, teniendo en cuenta las competencias digitales para el desarrollo de las prácticas sociotécnicas que den cuenta de la fotografía familiar. Para ello, se ha llevado a cabo una etnografía virtual apoyada en un trabajo de campo basado en 30 entrevistas en profundidad con padres, madres, abuelas, abuelos, tíos o tías que fuesen usuarios de smartphone desde, al menos, el nacimiento del nuevo familiar; un análisis documental sobre uso y dotación del smartphone y una autoetnografía para dar cuenta de mis prácticas sociotécnicas como objeto/sujeto de la investigación. El marco teórico sobre el que se sustenta la tesis está basado en el concepto de "memorias mediadas" por la tecnología de Van Djick (2007) y el acercamiento que hace Jan Assmann (2012 (1992))de los objetos como mediadores en el acceso al pasado, para así, conceptualizar el smartphone como tecnología de la memoria que juega un papel fundamental en nuestro acceso y construcción de esta, a través de la fotografía...
The present research is about how the photographic family memory is made using the smartphone, taking under consideration the digital competences for the development of sociotechnical practices of family photography.To study this, a virtual ethnography has been done, based on 30 in depth interviews with fathers, mothers, grandmothers, grandfathers, uncles or aunts, who were smartphone users since at least, the birth of a new family member; an analysis about use and stuffing of a smartphone and a virtual autoethnography to explain my sociotechnicals practices as the object/subject of the research.The theory, on which the thesis is based, is the concept of "mediated memories" by Van Djick's (2007) technology and Jan Assmann's (2012 (1992)) approach to objects as mediators to access the past, in order, to conceptualize the smartphone as a technology of memory that plays a fundamental role in our process and construction of it, through photography...
Description
Tesis inédita de la Universidad Complutense de Madrid, Facultad de Ciencias Políticas y Sociología, leída el 20-07-2021
Collections