Publication:
Algoritmos de adaptación dinámica del ejercicio para la mejora del rendimiento deportivo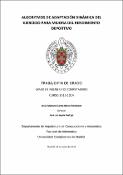 Advisors (or tutors)
Editors
Abstract
En la actualidad, la optimización del rendimiento deportivo es una necesidad que atañe tanto a los deportistas de élite, a los entrenadores, y a cualquiera que realice una práctica deportiva frecuente en mayor o menor medida. Este trabajo consiste en una aplicación en Android en la que, partiendo de una serie de ejercicios categorizados, vamos a tratar de ayudar a un entrenador a trazar un plan de entrenamiento recomendando aquéllos ejercicios que mejor se pueden ajustar a un individuo. Para ello, se va a hacer uso de tres algoritmos de recomendación basados en resultados anteriores que tanto el propio individuo como otros, han experimentado realizando dichos ejercicios. Hoy en día los sistemas de recomendación se están convirtiendo en una herramienta de gran importancia para muchos sitios web que tratan de ofrecer a un usuario un contenido que se ajuste a sus necesidades. En estos sitios se puede presentar al usuario por ejemplo una serie de ítems que puede que le interesen o quizás la recomendación de algún ítem específico que podría gustarle porque a otros usuarios similares les ha gustado. La aplicación va a estar enfocada con la misma idea que tienen estos sitios web, sólo que en este caso recomendando ciertos ejercicios de entrenamiento que mejor se adapten a un usuario ya que a otros les ha ido bien realizarlos.
Nowadays, the optimization of sport performance is an issue that concerns elite athletes, coaches, and anyone who practices sports in varying strength. This project consists of an Android application that, starting from a set of pre-defined exercises, will help a coach to develop a training plan by recommending the best exercises adjusted to a person. For that purpose, it will make use of three recommendation algorithms that use the previously obtained results by the individual himself as other users of the application. Nowadays, recommendation systems are becoming an important tool for many websites in order to give the user a content that will fit his/her needs. This proposed content can be presented to the user, for example, as a number of items that may interest him/her or also recommend any other specific item that the user might like, since other similar users did. The approach of this application will offer the same information as shown on these websites. However, this application will not only provide the user information about exercises, but also it will recommend the user those exercises adjusted to her/his need; since their practice has already helped others with the same need as well.
Description
Trabajo de Fin de Grado en Ingeniería de Computadoes (Universidad Complutense, Facultad de Informática, curso 2013/2014)