Publication:
Mejora en los sistemas de manejo reproductivo y productivo en ganaderías de bovino españolas : factores determinantes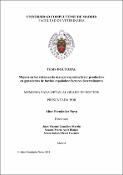 Files
Authors
Editors
Publisher
Universidad Complutense de Madrid
Abstract
La buiatría es la rama de la medicina veterinaria que se especializa en todo lo relacionado con los bovinos y rumiantes (salud, producción, reproducción, comercialización e industrialización). La palabra buiatría, adaptada del inglés "buiatrics", proviene del griego boũs o bũs (βοῦς, "buey, toro o vaca") e iatreía (ἰατρεία, "curación"). Así, esta tesis tiene como finalidad el abordaje de los puntos críticos identificados de la eficiencia reproductiva bovina y propuesta de estrategias de trabajo veterinario, buiatra o albéitar que redunden en una elevación de la misma. Dentro de este amplio abanico de puntos críticos que existe en la buiatría, nos hemos centrado en tres aspectos prácticos de la reproducción bovina: pérdidas gestacionales, eficiencia reproductiva de los protocolos de sincronización y evaluación de la aptitud reproductiva de sementales de aptitud cárnica. Por ello, el objetivo 1 tenía como fin el estudio sobre la prevalencia y factores asociados a las pérdidas embrionarias tardías-fetales tempranas en vacuno de leche. Los resultados del trabajo revelaron que los factores que en las granjas de leche españolas afectan a la pérdida gestacional (PG) fueron: el número de partos (más PG en multíparas), gestaciones conseguidas tras inseminación artificial a tiempo fijo (IATF) en lugar de IA tras celo visto o monta natural y número de inseminación (primera IA mayor probabilidad de PG que el resto). Asimismo, otros factores resultaron no ser tan influyentes en la PG: estación calurosa, tipo de protocolo de IA a tiempo fijo, días en leche, toro, inseminador y tipo de semen. En conclusión, la pérdida gestacional en vacuno de leche es un evento complejo y en el que intervienen múltiples factores. Es por esto que, es necesario seguir investigando en esta área y publicando artículos que estudien diversos factores de manera transversal y horizontal en diferentes granjas...
Buiatrics is the branch of veterinary medicine that specializes in everything related to cattle (health, production, reproduction, commercialization and industrialization). The term "buiatrics" comes from the Greek boũs or bũs (βοῦς, "ox, bull or cow") and iatreía (ἰατρεία, "healing"). Thus, this thesis is aimed at addressing the identified critical points of bovine reproductive efficiency and proposing strategies for veterinary work that results in its improvement.Therefore, objective 1 aimed at studying the prevalence and factors associated with late embryonic-early foetal loss in dairy cattle. The results of the work revealed that the factors that affect pregnancy loss (PL) in Spanish dairy farms were: parity (more PL in multiparous cow), pregnancies achieved after fixed time artificial insemination (FTAI) instead of artificial insemination (AI) after observed oestrus or natural breeding and insemination number (first AI greater probability of PL than later AIs). Likewise, other factors did not influenced PL: hot season, hormonal protocol fort fixed time AI, days in milk (DIM), bull, inseminator and type of semen used. In conclusion, pregnancy loss in dairy cattle is a complex event involving multiple factors. For this reason, it is necessary to continue researching in this area and publishing articles that study various factors in a cross-sectional and holistic way in different farms...
Description
Tesis inédita de la Universidad Complutense de Madrid, Facultad de Veterinaria, leída el 25-11-2021
Collections