Publication:
Detección de wedgies en BGP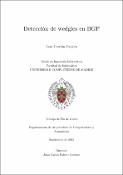 Authors
Advisors (or tutors)
Editors
Abstract
Hoy en día, la comunicación a través de Internet ocupas un lugar primordial en nuestra vida diaria. Con el propósito de que las comunicaciones lleguen a todas las partes del mundo, es necesario disponer de protocolos de encaminamiento que permitan guiar el tráfico en Internet. El protocolo de encaminamiento exterior más utilizado es Border Gateway Protocol (BGP), creado para que distintos dominios interconectados entre sí puedan intercambiar información de encaminamiento. esta información es suficiente para construir el grafo de conectividad de la red, de manera que puedan aplicarse las políticas de encaminamiento adecuadas a cada situación. Los resultados obtenidos con BGP no siempre llevan a estados deterministas tras plicar una política de encaminamiento determinada, sino que es posible que aparezcan estados no deseados y no deterministas, denominados BGP-Wedgies, que son igualmente estables pero no llevan al resultado primeramente esperado. Este es el objetivo de estudio de este proyecto, en el que se hace un estudio a fondo del protocolo BGP, así como una simulación y análisis de un escenario propenso a sufriruna wedgie, utilizando una herramienta de modelado llamada OMNeT++ y el paquete INET. En este último, ha sido necesario añadir algunas funciones imprescindibles para conseguir los objetivos buscados y que la implementación soportada del protocolo BGP sea más completa.
Nowadays, communications over the Internet have a significant place in our everyday lives. For the purpose of carrying communications woldwide, it is neccessary to have routing protocols that allow to guide traffic through the Internet. the most used exterior gateway protocol is Border Gateway Protocol (BGP), created for different interconnecteddomains to exchange routing information. This information is sufficient to build the connectivity network graph, in order to apply the suitable routing policies to each situation. BGP obtained results not always result in a deterministic state after applying a certain routing policy, but it is possible that unintended, appear. That is the purpose of this project, where a BGP protocol throrough study have been done, as well as a simulation and analysis based on a scenario prone to suffer a wedgie, using a modelling tool named OMNeT++ and the INET framework. The latter needed some implementation changes in order to get the intended objectives and to provide a more completed implementation of BGP.
Description
Trabajo de Fin de Grado en Ingeniería Informática (Universidad Complutense, Facultad de Informática, curso 2014/2015)