Publication:
Estrategias de utilización del agua por las plantas en pinares naturales y de repoblación del sureste ibérico semiárido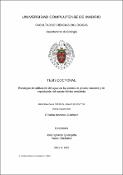 Files
Authors
Advisors (or tutors)
Editors
Publisher
Universidad Complutense de Madrid
Abstract
Drylands cover around 41% of Earth's land surface and include 20% of the major centers of global plant diversity. Drylands are especially vulnerable to climate change and desertification. Maintenance of biodiversity in drylands is crucial to prevent those negative impacts. In order to do so, it is important to understand how dryland plant communities are organized and the processes that allow plant species coexistence in these severely water limited environments. Afforested plantations of Pinus halepensis Mill., that were extensively planted in semiarid areas of the Mediterranean basin during the second half of the XXth century are particularly vulnerable to climate change and drought intensification. The aim of the present PhD thesis was to investigate the water use strategies of some of the most common plant species naturally occurring in the semiarid Iberian SE, and to assess how plant-plant interactions influence the resource acquisition and physiological processes of vegetation in natural and afforested P. halepensis woodlands. We also wanted to assess how thinning, one of the most common silvicultural practices, influences the physiology of the remaining trees. Given the potential of isotopic techniques in ecophysiological studies, we wanted to evaluate their utility for investigating plant water use strategies and plant-plant interactions involving water in a semiarid ecosystem of the Iberian SE.
Description
Tesis inédita de la Universidad Complutense de Madrid, Facultad de Ciencias Biológicas, Departamento de Ecología, leída el 31/10/2012
Collections