Publication:
Comportamiento frente a la corrosión de un nuevo acero inoxidable con bajo contenido en níquel en soluciones alcalinas basadas en hidróxido de calcio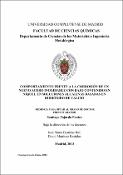 Files
Authors
Advisors (or tutors)
Editors
Publisher
Universidad Complutense de Madrid
Abstract
Las estructuras de hormigón armado, EHA, presentan generalmente una elevada resistencia frente al fenómeno de corrosión. Esto se debe a las condiciones altamente alcalinas (pH alrededor de 12–13) que la solución contenida en los poros ofrece al material utilizado como refuerzo, tradicionalmente acero al carbono. Estas condiciones promueven la formación de una película de óxido sobre su superficie que le confiere pasividad, dando como resultado la protección de la armadura y, por consiguiente, la correcta funcionalidad de la estructura. No obstante, la presencia de iones cloruro en el medio puede dar lugar a la aparición de corrosión localizada por picadura cuando estos alcanzan la interfase constituida por el refuerzo y el hormigón. Adicionalmente a este fenómeno, el proceso de carbonatación, resultado de la reacción del CO2 atmosférico con los productos provenientes de la hidratación del cemento, presentes en la solución contenida en los poros del hormigón, puede desencadenar en la aparición de corrosión generalizada en el acero al carbono debido al descenso del pH (inferior a 9), que hace que el material pase de un estado pasivo a uno activo de corrosión. Ambos factores conducen al deterioro de las EHA y tienen como resultado la pérdida de estabilidad y seguridad de las mismas, con el consiguiente coste en tareas de mantenimiento y reparación. Debido a estas circunstancias, comenzó a extenderse el uso de aceros inoxidables como material de refuerzo en las EHA en zonas en las que el acero al carbono presentaba una protección insuficiente. El creciente interés en las armaduras de acero inoxidable es una consecuencia de su alta resistencia a una gran variedad de medios y a sus propiedades de auto–reparación una vez que su capa pasiva ha sufrido algún tipo de daño. Como resultado, la vida en servicio de las EHA que utilizan acero inoxidable como refuerzo es superior a aquellas tradicionales que utilizan acero al carbono. El uso de armaduras de acero inoxidable se utilizó por primera vez en la construcción de un muelle en el Golfo de México (Puerto de Progresso, Yucatán, México), entre los años 1937 y 1941. Inspecciones recientes llevadas a cabo revelaron la ausencia de corrosión en la estructura. EE. UU., Canadá, Australia y algunos países europeos utilizan, en la actualidad, acero inoxidable como refuerzo en EHA. [ABSTRAC] Reinforced concrete structures (RCS) normally present a great corrosion resistance. The high alkaline media, such as that contained in the pores of the concrete (pH about 12-13) promotes the formation of a protective oxide layer on the surface of the steel used as reinforcement that prevents it from corrosion. However, the presence of chlorides can lead to damaging effects on passivity and the appearance of localized pitting corrosion when chloride ions reach the metal/concrete interface. In addition to this phenomenon, carbonation processes over the solution contained into the pores of the concrete causes severe corrosion problems due to a drop in pH (under the value of 9)that turns the passive state to an active corrosion process. These two factors lead to the corrosion and deterioration of the RCS with the result of a less stable and secure structure and the subsequent costs in maintenance and reparation works. Because of these circumstances, stainless steel began to be used as reinforcing material in RCS in places where carbon steel presented protection deficiencies. The interest in stainless steel reinforcements is a result of its resistance to a great variety of environments and its property of self-regeneration after partial destruction of its passive film. As a result, structural service life spans of stainless steel reinforced structures are increased with respect to traditional carbon steel ones. Stainless steel reinforced concrete was first used in the construction of a pier built in the Gulf of Mexico (Port of Progresso, Yucatán, Mexico), between 1937 and 1941. The latest inspection of the structure revealed that it is virtually free of corrosion. USA, Canada, Australia and some European countries are currently using stainless steel as reinforcements in RCS.
Description
Tesis inédita de la Universidad Complutense de Madrid, Facultad de Ciencias Químicas, Departamento de Ciencia de los Materiales e Ingeniería Metalúrgica, leída el 16-11-2012
Collections