Publication:
Drug-checking. Una aproximación relacional a las prácticas constitutivas del counseling preventivo en drogodependencias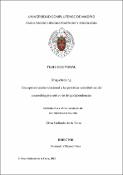 Files
Authors
Advisors (or tutors)
Editors
Publisher
Universidad Complutense de Madrid
Abstract
El aumento de la complejidad en las sociedades en las que vivimos, respecto de sus sistemas sociotécnicos y de la tecnificación constante de los resortes de control, está definiendo constantemente nuevas relaciones y entidades en las que prolifera la participación de los no humanos. La tecnología desempeña un papel cada vez más decisivo en nuestras acciones y prácticas cotidianas, algo que compromete la democratización del conocimiento y con ello la posibilidad, o no, de participar como afectados en las ecologías políticas que profundizan en el ejercicio de la vida en común y, por tanto, de la democracia. El fenómeno de las drogas y su gestión es reflejo de esta complejidad en la que se constituyen nuestras sociedades, por ende, no es ajeno a la emergencia y desarrollo de nuevos objetos sociotécnicos y tecnocientíficos de control. La tesis doctoral que aquí se presenta, fruto de una investigación etnográfica centrada en un estudio de casos, plantea la comprensión de los servicios de análisis de sustancias (drugchecking services) como un objeto con la capacidad de coordinar diferentes realidades en la gestión de las drogas. Una red sociotécnica con competencia para constituir y promover entramados de relaciones semióticas y materiales capaces de transformar y asentar una serie de situaciones, instituciones, ordenamientos de realidad y, en definitiva, de intervenir en la búsqueda de modos de vida que puedan pacificar un mundo que por lo general se ve de forma plana, desde la perspectiva particular de los actores que hegemonizan la gestión del fenómeno...
The increase in complexity of societies that we live in, with respect to their sociotechnical systems and the technification of control mechanisms, is constantly defining new relationships and entities in which the participation of non-human actors proliferates. Technology plays an increasingly decisive role in our daily actions and practices, something that compromises the democratization of knowledge, and with it, the possibility (or not) of participation of the affected in political ecologies that deepen the exercise of life in common, and thus the exercise of democracy itself. The phenomenon of drugs and their management is a reflection of this complexity in which our societies are constituted. Therefore, it is not alien to the emergence and development of new sociotechnical and technoscientific objects of control. The doctoral thesis presented here, a result of an ethnographic research focused on a case study, proposes an understanding of drug checking services as an object with the ability to coordinate different realities in the management of drugs. A sociotechnical network with aims to constitute and promote frameworks of semiotic and material interaction capable of transforming and establishing a series of situations, institutions, modes of ordering, and ultimately, intervening in the search for ways of life that can pacify a world that is viewed, in general terms one-dimensionally. In particular, from the perspective of agents who hegemonize the management of the phenomenon...
Description
Tesis inédita de la Universidad Complutense de Madrid, Facultad de Ciencias Políticas y Sociología, leída el 18-02-2022
Collections