Publication:
Women and armed conflict: the recognition of the Rights of Women and their contribution to International Humanitarian Law and International Criminal Law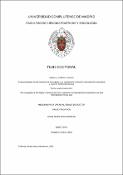 Files
Authors
Advisors (or tutors)
Editors
Publisher
Universidad Complutense de Madrid
Abstract
Según las estadísticas, la probabilidad de que una mujer sea violada durante su vida es muy alta. Además, la violencia doméstica es un hecho muy común en casi todos los países del mundo.1 Aunque en la mayoría de los países durante tiempos de paz, la violación y otras violencias físicas graves se consideran delito, durante un conflicto armado, la agresión sexual se convierte en una rutina. Las mujeres están sometidas a violencia sexual en multitud de situaciones, incluso en campos de detención establecidos específicamente para ese propósito, en puntos de control y cruces fronterizos, en campos de refugiados, y en lugares públicos. A menudo, la violencia sexual tiene lugar enfrente de otras personas, incluidos miembros de la familia. Si bien la protección de las mujeres durante los conflictos armados ha experimentado un gran progreso durante el siglo pasado, debido, entre otras cosas, a los esfuerzos de las activistas feministas, los conflictos armados todavía tienen un enorme impacto sobre las mujeres...
According to statistics the probability of a woman being raped in herlifetime is very high. Also, domestic violence is reported as a common occurrence in almost every country in the world.3 Although in most countries,during peacetime, rape and other serious physical violence are considered a crime, during an armed conflict, sexual assault becomes a routine. Women are subjected to sexual violence in a multitude of situations, including in detention camps specifically set up for that purpose, at check points and border crossings, in refugee camps, and in public places. Often the sexual violence takes place in front of others, including family members. Albeit the protection of women during armed conflict has made progress over the past century, due to, inter alia, the efforts of feminist activists, armed conflicts still have an enormous impact on women. The existing violence against women in contemporary armed conflicts demonstrates that gender discrimination still is a tremendous problem and that there is still a need for further attention to this phenomenon and for progress to be made for the protection of women...
Description
Tesis inédita de la Universidad Complutense de Madrid, Facultad de Ciencias Políticas y Sociología, leída el 24/02/2022. Tesis retirada por expreso deseo de la autora
Collections