Publication:
Análisis epidemiológico de las infecciones por lentivirus de pequeños rumiantes (SRLVs) y su contribución al estudio de la patogenia por estos virus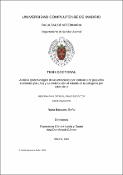 Files
Authors
Advisors (or tutors)
Editors
Publisher
Universidad Complutense de Madrid
Abstract
El diagnóstico de los lentivirus de pequeños rumiantes (SRLVs), el virus de Maedi Visna y el virus de la Artritis y encefalitis caprina, es difícil porque no existe un método diagnóstico estándar. El primer objetivo de esta tesis era determinar si la leche podría ser un sustrato adecuado para el diagnóstico de SRLVs en lugar de la sangre. Para ello se analizaron con el test de ELISA muestras de 50 ovejas tanto de leche como de sus correspondientes muestras de sangre. La concordancia entre los resultados de ELISA en sangre y leche fue de un 90% y el valor kappa fue de un 0,79. Estos resultados apoyan que la leche es un sustituto adecuado de la sangre en el diagnóstico de SRLVs. Además, se realizó un estudio serológico en la región central de España utilizando muestras de leche de 413 animales (250 ovejas y 163 cabras) procedentes de 13 explotaciones. Todas las explotaciones fueron positivas a la infección. Entre los animales, el 60,0% de las ovejas y el 8,0% de las cabras analizadas fueron seropositivas. Este es uno de los primeros estudios que utiliza leche en lugar de sangre para estimar la seroprevalencia de SRLVs así como el estudio de prevalencia más reciente en esta región de España. Además cada muestra fue analizada usando una técnica de PCR (PCR-pol, que amplifica un fragmento en el gen pol, que está altamente conservado en retrovirus), que aumentó el porcentaje de animales detectados por ELISA. Un total de 72,2% de las ovejas y un 28,8% de las cabras fue positivo a SRLVs por ELISA y/o PCR. Se concluyó que tanto ELISA como PCR se pueden usar para el diagnóstico de SRLV en leche. Asimismo, se utilizó también una segunda técnica de PCR (PCR-LTR, que amplifica un fragmento en el ADN proviral LTR) para el diagnóstico de SRLVs. La detección del genoma proviral, a pesar de ser sensible, es difícil debido a la heterogeneidad de los genomas de los SRLVs. Leche de 194 ovejas y 163 cabras procedentes de granjas de la región central de España fueron analizadas usando ambas técnicas de PCR y sus resultados comparados con los resultados obtenidos por ELISA. Cuando se comparó con el ensayo serológico, la concordancia de ambas pruebas de PCR fue muy baja (0,024 y 0,020 en ovejas, y 0,124 y 0,114 en cabras para PCR-pol y PCR-LTR, respectivamente). A la vista de estos resultados, se podría concluir que la eficacia de la PCR para el diagnóstico de SRLVs es baja y una combinación de PCR y ELISA debiera ser usada para el diagnóstico.
Diagnosis of the small ruminant lentiviruses (SRLV), Maedi-Visna virus and Caprine Arthritis-Encephalitis virus, is difficult because there is not a 'gold standard' diagnostic test. The first aim of the thesis was to determine whether milk could provide an appropriate substrate for diagnosing SRLV infections instead of blood. The diagnosis performance of the ELISA test for detection of antibodies against SRLV in milk and corresponding blood samples was evaluated in 50 sheep. The agreement between ELISA in blood and milk was 90% and the kappa value was 0.79. These results support that milk is a suitable replacement for blood for the diagnosis of SRLV. In addition, a serological survey in the central zone of Spain was performed using milk samples involving 413 animals (250 sheep and 163 goats) from 13 flocks. All flocks were positive to the infection. Among the animals, 60.0% of the sheep and 8.0% of the goats tested were seropositive. This is one of the first studies using milk instead of blood to estimate seroprevalence of SRLV as well as the most recent prevalence study in this region of Spain. Additionally, each sample was tested using a PCR technique (PCR-pol, which amplifies a fragment in gene pol, which is highly conserved in retroviruses), which increased the percentage of positive animals detected by ELISA. A total of 72.2% of the sheep and a 28.8% of the goats were positive to SRLV by ELISA and/or PCR. It was concluded that milk allows the diagnosis of SRLV by both ELISA and PCR. In addition, a second PCR technique (PCR-LTR, which amplifies a fragment in the proviral LTR) was also used for the diagnosis of SRLV. Detection of the proviral genome by PCR, though sensitive, is difficult due to the heterogeneity of the SRLV genomes. Milk from 194 sheep and 163 goats from farms in the Central Spain was analyzed by both PCR techniques and compared to results obtained by ELISA. When compared to the serologic assay, the agreement of both PCR techniques was very low (0.024 and 0.020 in sheep, and 0.124 and 0.114 in goats for PCR-pol and PCR-LTR, respectively). In view of these results, it may be concluded that the efficacy of PCR for the diagnosis of SRLVs is low and a combination of PCR and ELISA should be used for diagnosis.
Description
Tesis inédita de la Universidad Complutense de Madrid, Facultad de Veterinaria, Departamento de Sanidad Animal, leída el 19/12/2012
Collections