Publication:
Desarrollo y validación de instrumentos para medir clima social en los grupos de autoayuda del programa ecológico multifamiliar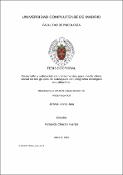 Files
Authors
Advisors (or tutors)
Editors
Publisher
Universidad Complutense de Madrid
Abstract
En el presente trabajo se continua con una línea de investigación anterior que, a partir de las inquietudes de los participantes del Programa Ecológico Multifamiliar (PEM), buscaba responder a la necesidad de construir un modelo de evaluación para el PEM y, dentro de este modelo, priorizar el desarrollo de instrumentos que midiesen la dinámica grupal. Esto último ha sido el foco principal de la presente investigación. Tras revisar la literatura se ha optado por utilizar el concepto de clima social para abordar la dinámica del grupo. Luego era necesario encontrar los instrumentos disponibles para medir clima social en grupos de autoayuda y seleccionar alguno. No obstante, no existían instrumentos adecuados para ello, por lo que era necesario desarrollar instrumentos nuevos. Más aún, ninguna de las definiciones de clima social respondía al rol activo de las personas dentro de los grupos de autoayuda, por lo que fue preciso proponer una nueva definición. Esta definición exigía desarrollar dos instrumentos complementarios para acceder tanto a la percepción individual como al consenso del grupo y así captar el clima social como un todo. Ambos instrumentos han obtenido adecuadas propiedades psicométricas. Las implicaciones de la nueva definición de clima social, del modelo de evaluación y particularmente de los instrumentos se discuten. ABSTRACT.This paper follows a line of previous research which began with the concerns of the Ecological Multifamily Program (PEM) participants. In response to the need to build an assessment model for the PEM, prioritization was given to the development of instruments that could measure the group dynamics. These instruments have been the main focus of this investigation. After reviewing the literature, the decision was made to use the concept of social climate to address the dynamics of the group. Then, appropriate tools to measure the social climate within these self-help groups had to be found. The goal was to select a measurement tool, but there were no suitable instruments. So it was necessary to develop new instruments. Moreover, none of the definitions of social climate reflected the people's active role in self-help groups. So it was also necessary to propose a new definition. This definition presented two complementary tools to access both individual perception and the consensus of the group, therefore capturing the social climate as a whole. Both instruments have obtained adequate psychometric properties. This paper presents the implications of the new definition of social climate, the assessment model for it, and particularly, the instruments used to evaluate it.
Description
Tesis inédita de la Universidad Complutense de Madrid, Facultad de Psicología, leída el 14/02/2013
Collections