Publication:
Papel de los constituyentes edáficos en la disponibilidad de metales pesados en suelos calcáreos de uso agrícola del área meditarránea. Enfoque químico y biológico.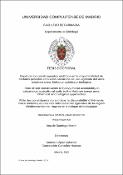 Files
Authors
Advisors (or tutors)
Editors
Publisher
Universidad Complutense de Madrid
Abstract
Las características climáticas y el contenido en carbonato de los suelos agrícolas calcáreos del área mediterránea favorecen la acumulación y retención de metales pesados en los horizontes superficiales del suelo. Sin embargo, en este contexto, existe un riesgo potencial de movilización de los metales, incrementando la fracción de metal biodisponible para las plantas y los microorganismos del suelo. Constituyentes edáficos, como la materia orgánica, la arcilla y/o los óxidos de hierro, podrían jugar un papel clave minimizando este proceso. No obstante, un insuficiente contenido de alguno de estos componentes, como el habitualmente observado para la materia orgánica en los suelos agrícolas, podría ser un factor limitante. Aunque la información aportada por la bibliografía es relativamente amplia, este aspecto no está del todo resuelto. Por todo ello, el objetivo principal de esta Tesis ha sido investigar el papel que ejercen los constituyentes del suelo, desde un enfoque tanto químico como biológico, en la disponibilidad de Cd, Cu, Pb y Zn en suelos agrícolas calcáreos del área Mediterránea. Para ello, se evaluaron los patrones de extractabilidad de los metales, la biodisponibilidad metálica en Lactuca sativa L. y la alteración de una serie de parámetros bioquímicos y microbiológicos frente a la contaminación metálica.
The climate characteristics and carbonate content of calcareous agricultural soils in the Mediterranean area favour the accumulation and retention of heavy metals in the surface horizons of the soil. This leads to a potential risk of mobilisation of the metals, thereby increasing the fraction of bioavailable metal for plants and soil microorganisms. Soil constituents such as organic matter, clay and/or iron oxide may play a key role in minimising this process. However, an insufficient content in some of these components –such as is commonly observed in the case of organic matter in agricultural soils– may be a limiting factor. Although the bibliography provides relatively extensive information, this aspect has not yet been completely resolved. Therefore, the main objective of this thesis was to investigate the role played by soil constituents from both a chemical and biological perspective in Cd, Cu, Pb and Zn availability in calcareous agricultural soils in the Mediterranean area. This was done by evaluating the extractability patterns of the metals, metal bioavailability in Lactuca sativa L. and the alterations occurring in a series of biochemical and microbiological parameters in the presence of metal contamination. [RÉSUMÉ] Les caractéristiques du climat et la teneur en carbonate dans les sols calcaires agricoles de la région Méditerranéenne favorisent l'accumulation et la rétention des éléments traces métalliques (ETM) dans les horizons de surface du sol. Néanmoins, dans ce contexte, il existe un risque potentiel de mobilisation des ETM, ce qui peut augmenter la fraction des ETM biodisponibles pour les plantes et les microorganismes du sol. Constituants du sol, tels que la matière organique, l'argile et/ou les oxydes de fer, pourraient jouer un rôle clé en minimisant ce processus. Cependant, une teneur insuffisante en l'un de ces composants, comme cela est habituellement observé pour la matière organique dans les sols agricoles peut être un facteur limitant. Bien que les informations fournies par la littérature soient relativement importantes, cette question n'est pas entièrement résolue. Pour cela, l'objectif principal de cette Thèse a été d'étudier le rôle joué par les constituants du sol, par une approche chimique et biologique, en relation à la disponibilité de Cd, Cu, Pb et Zn dans des sols calcaires agricoles de la région Méditerranéenne. Pour ce faire, nous avons évalué les patrons d'extractibilité des ETM, la biodisponibilité métallique en Lactuca sativa L. et l'altération d'une série de paramètres biochimiques et microbiologiques face à la contamination métallique.
Description
Tesis inédita de la Universidad Complutense de Madrid, Facultad de Farmacia, Departamento de Edafología, leída el 15/03/2013
Collections