Publication:
La política exterior de Marruecos en el reinado Mohamed VI, (1999-2008): actores, discursos y proyecciones internas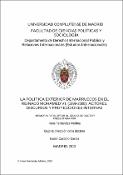 Files
Authors
Advisors (or tutors)
Editors
Publisher
Universidad Complutense de Madrid
Abstract
Esta tesis doctoral contribuye al análisis empírico de la política exterior marroquí del primer decenio del reinado de Mohamed VI (1999-2008) desde un punto de vista sistémico y atento a su entrelazamiento con la política interna. El objetivo es analizar los determinantes, los actores, el proceso político (policymaking), el comportamiento y los discursos de Marruecos en sus relaciones con los vecinos del Magreb, la Unión Europea y sus países miembros, Estados Unidos, Oriente Próximo y otras áreas, dando prioridad siempre al punto de vista de este Estado. El sustrato teórico es una síntesis de elementos de los enfoques del Análisis de la Política Exterior (Foreign Policy Analysis, APE) pluralistas ("actores"), constructivistas ("discursos") y centrados en la interacción entre política exterior y política interna ("proyecciones internas"). La pregunta central de la investigación gira en torno a la funcionalidad de la política exterior marroquí de cara a la legitimación del régimen en tiempos de Mohamed VI. Las hipótesis de trabajo son tres: 1. La política exterior del Estado marroquí, desde su independencia, obedece y responde en gran medida a necesidades de legitimación del régimen derivadas del conflicto político interno latente (estrategia de movilización). 2. Sin embargo, esta política comienza a resultar parcialmente disfuncional como garantía de estabilidad política interna en las dos últimas décadas. Esto explica el uso cada vez más frecuente de las estrategias de acomodación (negociación y evitación de la controversia) y aislamiento (anulación de la oposición). 3. Los escenarios más significativos de la política exterior marroquí del periodo 1999-2008 pueden dividirse en dos categorías con arreglo a este criterio de funcionalidad interna: a) los que siguen siendo globalmente funcionales para la legitimación y la continuidad del régimen (UE, conflicto del Sáhara Occidental, Argelia y España); b) los que acarrean disenso e incluso desestabilización interna episódica (Estados Unidos, Oriente Próximo). This PhD thesis contributes to the empirical analysis of Moroccan foreign policy in the first decade of the reign of Mohammed VI (1999-2008) from a systemic perspective and paying special attention to its entanglement with internal politics. Its purpose is to analyse the determinants, the actors, the political process (policymaking), the behaviour and the discourses of Morocco in its relations with the Maghrebi neighbours, the European Union and its member states, the United States, the Middle East and other areas, always giving priority to the point of view of this state. The theoretical foundation is a synthesis of elements drawn from pluralistic ("actors") and constructivist ("discourses") approaches to Foreign Policy Analysis (FPA), as well as those focusing on the interaction between foreign and domestic policy ("domestic implications"). The central research question focuses on the functionality of the Moroccan foreign policy in terms of legitimisation of the regime in the Mohammed VI era. The working hypotheses are three: 1. The foreign policy of the Moroccan state since independence reflects and responds to a great extent to the regime's legitimisation needs, arising from the latent internal political conflict (mobilisation strategy). 2. However, this policy begins to be partially dysfunctional as a guarantee of internal political stability in the last two decades. This explains the increasingly frequent use of accommodation strategies (negotiation or dispute avoidance) and isolation strategies (neutralising of the opposition). 3. The most significant scenes of the Moroccan foreign policy in the 1999-2008 period can be divided into two categories according to the internal functionality criterion: a) those that remain globally functional for the legitimisation and the continuity of the regime (EU, Western Sahara conflict, Algeria and Spain); b) those that provoke dissent and even episodic internal destabilisation (U.S., Middle East).
Description
Tesis inédita de la Universidad Complutense de Madrid, Facultad de Ciencias Políticas y Sociología, Departamento de Derecho Internacional Público y Relaciones Internacionales (Estudios Internacionales),leída el 12-04-2013
Collections