Publication:
Diagnóstico diferencial del linfoma intestinal y la enfermedad inflamatoria crónica intestinal en biopsias endoscópicas caninas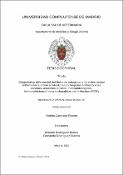 Files
Authors
Advisors (or tutors)
Editors
Publisher
Universidad Complutense de Madrid
Abstract
NOTA 520 8 El linfoma intestinal y la enfermedad inflamatoria crónica intestinal (IBD) son enfermedades relevantes en el perro, ya que son responsables de un gran número de cuadros de diarrea crónica y vómito crónico en esta especie. Ambas enfermedades pueden compartir cuadro clínico, haciéndose esencial su diagnóstico diferencial, ya que su tratamiento y pronóstico son muy diferentes. Su diagnóstico diferencial se basa en el estudio histopatológico de biopsias intestinales. Sin embargo, cuando el IBD es de carácter grave y el linfoma intestinal aparece de forma difusa, este diagnóstico no siempre resulta sencillo, especialmente en biopsias endoscópicas. Por esta razón, en este trabajo nos hemos planteado estudiar métodos diagnósticos complementarios como son el inmunofenotipo, el índice de proliferación celular Ki-67 y las técnicas de PCR para clonalidad de linfocitos T para realizar un diagnóstico diferencial de ambas enfermedades. Para ello hemos seleccionado 32 perros con enfermedades digestivas graves de tipo difuso a los que se les había realizado endoscopia digestiva superior con toma de biopsias. Estos perros se dividieron en tres grupos tras analizar las biopsias con H-E y con los marcadores leucocitarios CD3 y CD20. Los grupos fueron: grupo Linfoma (n = 8), grupo IBD (n =15) y grupo DLP (desorden linfoproliferativo, n = 9). En el grupo DLP se incluyeron aquellos perros en los que existía una sospecha de linfoma intestinal, pero sin un diagnóstico histopatológico claro. Los resultados de este estudio demuestran que no existen diferencias significativas en cuanto al motivo de consulta, cuadro clínico y analítica sanguínea entre los distintos grupos. Los datos ecográficos revelan que tanto el engrosamiento de la pared intestinal como la pérdida de diferenciación de capas son significativamente más frecuentes en el linfoma intestinal (p = 0,020 y p = 0,001 respectivamente). El aspecto endoscópico de las lesiones es similar en los tres grupos, con una mucosa engrosada, congestiva e irregular, pudiendo encontrarse soluciones de continuidad o puntos blancos. La consistencia de la mucosa a la toma de biopsias presenta diferencias significativas entre ambas enfermedades, siendo más frecuentemente friable en el IBD grave (p = 0,015), y más frecuentemente dura en el linfoma intestinal (p = 0,006)... ABSTRACT. Inflammatory bowel disease (IBD) and small intestinal lymphoma are relevant diseases in canines, responsible of a large number of cases of chronic vomiting and diarrhea. Both conditions share clinical presentation; however, a correct diagnosis is essential for proper treatment and prognosis. The differentiation of intestinal lymphoma from IBD is based on the histological evaluation of intestinal biopsy specimens. However, when IBD is severe and intestinal lymphoma diffuse, the differential diagnosis can be difficult, especially in endoscopic biopsies. For this reason, this study focuses on the evaluation of complementary diagnostic procedures such as immunophenotyping, proliferation index Ki-67 and PCR to determine clonality of the infiltrating cells, in order to establish a differential diagnosis between the two diseases. Endoscopic intestinal biopsies from 32 dogs that presented with diffuse, severe, intestinal disease were selected. All dogs were divided into three groups after morphologic evaluation with routine stains and assessment of CD3 and CD20 stained slides. Groups were: Lymphoma group (n = 9), IBD group (n = 8), and LPD group (lymphoproliferative disorder, n = 9). LPD group included dogs with a non conclusive diagnosis of lymphoma suspect. Results of the current study demonstrate no significant differences among groups in terms of presenting complaint, clinical signs and blood tests. Ultrasonographic data revealed that increased intestinal wall thickness and loss of intestinal wall layers are significantly more frequent in Lymphoma group (p = 0,020 and p = 0,001 respectively). Endoscopic visualization of the intestinal mucosa is similar within the three groups, showing an irregular, hyperemic mucosa, with the presence of erosions or white foci in some animals. Mucosal consistency at the time of biopsy collection differed significantly among groups. Friability was more frequent in IBD group (p = 0,015) whereas increased mucosal consistency was more frequent in Lymphoma group. WSAVA histopathological standards for the diagnosis of intestinal inflammation in endoscopic biopsy samples (Day et al., 2008) were evaluated. All cases of Lymphoma group presented an inflammatory background, associated with the neoplastic process. WSAVA index appeared significantly higher in Lymphoma group (p = 0,005). Furthermore, villous stunting and villous epithelial injury were significantly more intense in Lymphoma group (p = 0,022 and p = 0,004 respectively)...
Description
Tesis inédita de la Universidad Complutense de Madrid, Facultad de Veterinaria, Departamento de Medicina y Cirugía Animal, leída el 08/03/2013
Collections