Publication:
Deserción y no deserción universitaria en los matriculados por primera vez en la cohorte académica 2008 campus Octavio Méndez Pereira y Harmodio Arias Madrid de la Universidad de Panamá. Factores comunicacionales y socioeconómicos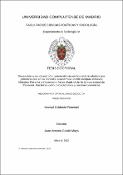 Files
Authors
Advisors (or tutors)
Editors
Publisher
Universidad Complutense de Madrid
Abstract
La tesis trata sobre los factores comunicacionales y socioeconómicos que procuran auscultar la deserción y la no deserción de las/os universitarios matriculados por primera vez, estudiándose el caso de la Universidad de Panamá (cohorte 2008). El estudio se aborda desde una perspectiva epistemológica provista por el modelo de la Mediación Dialéctica de la Comunicación Social (MDCS) y los aportes de otros fundamentos teóricos. En el trabajo empírico se emplean diversas técnicas: el grupo de discusión, entrevistas abiertas focalizadas y en profundidad, las entrevistas estructuradas y la observación directa durante la recolección de los datos primarios suministrados por los enseñados, enseñantes y progenitores con hijas/os matriculados en la institución. Destaca, en el análisis de los resultados, el uso del Modelo de Triangulación Técnica-Coincidental (MTTC); con él se estudian los comportamientos, roles, actitudes, aptitudes, aspiraciones, señalética universitaria y burocracia institucional, y sus inter-relaciones, como factores que inciden en la deserción y no deserción. ABSTRACT. This dissertation deals with the communication and socioeconomical factors that examine desertion and non-desertion of college students registered for the first time at the University of Panama (Cohort 2008). The study is approached from an epistemological perspective provided by the Dialectical Mediation of Social Communication Model (DMSCM) as well as theoretical contributions from other sources. The field work utilizes a variety of data gathering techniques: discussion groups, open-ended interviews, focused and in-depth, structured interviews as well as direct observation during the recollection of raw data from students, teachers and parents of youngsters enrolled for the first time. The use of Technical-Coincidental Triangulation Model (TCTM) is highlighted in the analysis of the results, facilitating the study of the relevance and the interrelationship among elements such as behavior, roles, attitudes, skills, aspirations, University bureaucracy and ethics to desertion and non-desertion.
Description
Tesis inédita de la Universidad Complutense de Madrid, Facultad de Ciencias Políticas y Sociología, Departamento de Sociología IV, leída el 02/04/2013
Collections