Publication:
El antisemitismo como arma de guerra : los judíos en España desde la II República hasta 1945 a través de la prensa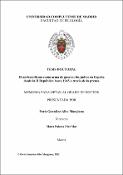 Files
Authors
Advisors (or tutors)
Editors
Publisher
Universidad Complutense de Madrid
Abstract
En esta tesis doctoral analizamos las informaciones relativas a los judíos y al judaísmo aparecidas en la prensa periódica española entre los años 1931 y 1945, es decir, entre la proclamación de la Segunda República y el final de la Segunda Guerra Mundial. Tomando como base esas piezas periodísticas, pretendemos analizar la construcción y difusión del discurso antisemita en los medios de comunicación españoles de la época, identificando los periódicos que lo difundieron y qué fuentes utilizaron estos medios. Dada la imposibilidad de analizar toda la prensa española aparecida durante el periodo, establecimos como base para nuestro estudio un corpus representativo de periódicos, que responde a una serie de características: periódicos diarios (siempre que haya sido posible, aunque algunos cambiaron su periodicidad a lo largo del tiempo), de difusión nacional, representativos de diferentes ideologías, y por tanto dirigidos a un público potencial muy diverso. Los periódicos analizados han sido: un medio anarquista(Solidaridad Obrera), uno de centro (Ahora), otro liberal (El Sol), dos monárquicos alfonsinos que en realidad son el mismo periódico con dos ediciones (ABC Madrid y ABC Sevilla), dos tradicionalistas/carlistas (El Siglo Futuro y El Alcázar, que en cierto modo funcionó como su sucesor) y dos falangistas (Libertad e Igualdad)...
In this doctoral thesis, there is an analysis of the data related to Jewish people and Judaism that appeared in the Spanish press between 1931 and 1945, it means, between the proclamation of the Second Republic and the end of World War II. Considering these pieces as a basis, the intention of this research is to analyse the structure and spreading of the anti-Semitic speech in the Spanish media of that time, identifying the newspapers that spread it and which resources were used by them. Given the impossibility of analysing the whole of the Spanish media that was published during this period, we established a representative section of newspapers, which belong to a series of characteristics: daily newspapers (as long as this was possible, although some of the publications changed their periodicity), of national spreading, representative of different ideologies, and directed to a very diverse audience. The analysed publications have been an anarchist newspaper (Solidaridad Obrera), a moderate newspaper (Ahora), a liberal newspaper (El Sol), two monarchical newspapers that are actually the same in two different editions (ABC Madrid and ABC Sevilla), two traditionalist/Carlist newspapers (El Siglo Futuro and El Alcázar, which can be considered its successor), and two falangist newspapers (Libertad and Igualdad)...
Description
Tesis inédita de la Universidad Complutense de Madrid, Facultad de Filología, leída el 30-05-2022
Collections