Publication:
Síndrome metabólico secundario a antipsicóticos en niños y adolescentes no tratados previamente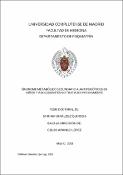 Files
Authors
Advisors (or tutors)
Editors
Publisher
Universidad Complutense de Madrid
Abstract
NOTA 520 8 Esta tesis supone un importante avance en el conocimiento del perfil de alteraciones antropométricas y metabólicas de los antipsicóticos en los niños y adolescentes no tratados previamente durante los 6 primeros meses de tratamiento. En seguimiento longitudinal de 279 pacientes con edades comprendidas entre los 4 y 17 años y distintos diagnósticos psiquiátricos se ha observado que con olanzapina y risperidona, se produce un aumento significativo de peso y otras variables antropométricas en todas las visitas desde el inicio del tratamiento hasta los 6 primeros meses de tratamiento. En cambio, quetiapina no muestra un aumento significativo de peso y otras variables antropométricas y metabólicas desde los 3 a los 6 primeros meses de tratamiento. Por tanto, la magnitud del efecto del aumento de peso y otros efectos metabólicos varían entre los distintos antipsicóticos a lo largo del tiempo, siendo la olanzapina el que mayor aumento de peso y alteraciones metabólicas produce, tanto en el metabolismo de glúcidos como en el de lípidos. Asimismo, se ha observado un aumento en la prevalencia del riesgo de padecer alteraciones metabólicas secundarias a los antipsicóticos, aunque estas alteraciones metabólicas tras 6 meses de estudio no llegan a consolidarse como una resistencia a la insulina, diabetes mellitus tipo 2 o Síndrome Metabólico. Los resultados de este estudio son clínicamente relevantes ya que dan información al clínico sobre la elección del antipsicótico más adecuado en pacientes con alteraciones metabólicas previas al inicio de tratamiento, en la toma de decisiones a la hora de continuar con el mismo antipsicótico, o cambiarlo a otro con un perfil cardiometabólico más seguro tras la aparición de alguna alteración metabólica o antropométrica durante los primeros meses de tratamiento. ABSTRACT. Introduction Antipsychotic-related weight and metabolic effects have become a major concern, especially in children and adolescents. However, studies on this topic have rarely involved antipsychotic-naïve/quasi-naïve patients (<30 days lifetime exposure). Objectives To assess weight change in a large sample of pediatric patients during the first 6 months of antipsychotic treatment. Secondary aims were to analyze metabolic changes and occurrence or risk of Metabolic Syndrome. Design, Setting, and Patients A nonrandomized, naturalistic, multicenter, inception cohort study conducted from 05/2005-02/2009 at 4 Spanish tertiary care institutions including 279 patients, ages 4-17 (mean 14.6±2.9) years, 248 of whom (88.8%) received a single antipsychotic and completed at least 2 visits. Patients had schizophrenia spectrum (44.5%), mood spectrum (23.2%), disruptive behavioral (17.3%), or other disorders (15.1%). Fifteen age- and gender-matched healthy, non-medicated subjects were used as a control group. Results Patients gained 3.1±3.0 kg at 1 month, 6.1±4.4 at 3 months, and 7.9±6.1 at 6 months, while the control group gained 0.5±1.2, 1.1±1.4, and 2.2±2.3 (P=.0001; P<.0001; and P=.002, respectively). Mean between-visit changes in weight, Body Mass Index (BMI), and BMI z-scores increased significantly at every visit with olanzapine and risperidone, but did not increase with quetiapine from 3-6 months. Patients at risk of adverse health outcome increased from 8.9% at baseline to 27.5% at 6 months (P<.001) (8.9% to 29.2% for risperidone, P<.0001; 6.8% to 38.1% for olanzapine, P=.004; 6.3% to 4.0% for quetiapine, P=0.91), while changes were non-significant in the control group. After 6 months of treatment Metabolic Syndrome and diabetes developed rarely. Conclusions Olanzapine and risperidone but specially quetiapine, differ in their risk of cardiometabolic side effects and their temporal pattern in antipsychotic-naïve/quasi-naïve children and adolescents treated for 6 months.
Description
Tesis inédita de la Universidad Complutense de Madrid, Facultad de Medicina, Departamento de Psiquiatría, leída el 13/05/2013
Collections