Publication:
El cultismo léxico en la obra poética de Rubén Darío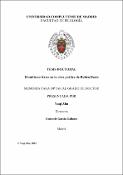 Files
Authors
Advisors (or tutors)
Editors
Publisher
Universidad Complutense de Madrid
Abstract
El presente estudio, cuyo título es El cultismo léxico en la obra poética de Rubén Darío, tiene como objetivo principal contribuir al estudio histórico del cultismo y valorar la capacidad innovadora de Rubén Darío (1867-1916) en la elaboración de un lenguaje poético propio. En las dos últimas décadas se han publicado trabajos muy completos en los que, sin embargo, no se contempla el léxico culto de Rubén Darío, maestro de escritores modernistas y, en general, de destacados nombres de la literatura hispánica de finales del siglo XIX y principios del siglo XX. Era necesario completar el capítulo del cultismo con un conocimiento más profundo de la función de este importantísimo elemento constitutivo en la poesía rubeniana. La primera dificultad que ha habido que superar es la delimitación del término cultismo respecto del significado de latinismo o arcaísmo. Así mismo, ha habido quedar una respuesta bien fundamentada sobre la adscripción del cultismo dentro de la categoría de los préstamos. Se han establecido unos criterios de identificación de los cultismos a la luz de las principales contribuciones sobre el tema con el fin de crear un corpus que nos permitiera cumplir los objetivos que se han propuesto...
The present study, entitled El cultismo léxico en la obra poética de Rubén Darío, aims to contribute to the historical study of cultismo and to assess the innovative capacity of Rubén Darío (1867-1916) in the development of a poetic language of his own. In the last two decades, very complete works have been published, in which, however, the cultism lexicon of Rubén Darío, master of modernist writers and, in general, of outstanding names in Hispanic literature of the late 19th and early 20th centuries, is not contemplated. It was necessary to complete the chapter on cultism with a deeper knowledge of the function of this very important constitutive element in Rubén's poetry.The first difficulty that had to be overcome was the delimitation of cultism with respect to terms such as latinism or archaism. Likewise, it has been necessary to give a well founded answer on the ascription of cultism within the category of loanwords. Some criteria for the identification of cultisms have been established in the light of the main contributions on the subject in order to create a corpus that would allow us to meet the proposed objectives...
Description
Tesis inédita de la Universidad Complutense de Madrid, Facultad de Filología, leída el 05-04-2022
Collections