Publication:
Prótesis total de rodilla de revisión : análisis de sus indicaciones, evolución, resultado clínico y la calidad de vida de sus pacientes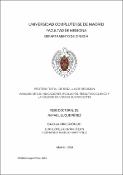 Files
Authors
Advisors (or tutors)
Editors
Publisher
Universidad Complutense de Madrid
Abstract
Durante los últimos años, el tratamiento de las enfermedades degenerativas de la rodilla se ha convertido en una de las patologías más habituales en los quirófanos de cirugía ortopédica. Dependiendo de la anatomía del paciente se pueden utilizar distintos tipos de implantes. Hay muchos tipos de artroplastias totales de rodilla (ATR). Se ha utilizado la Optetrak Condilar Constreñida (OCC), un tipo de artroplastia de revisión semi-constreñida para el tratamiento de la artrosis de rodilla grave y para la revisión de una artroplastia primaria desimplantada. Este estudio tuvo como objetivo evaluar y comparar la OCC implantada como procedimiento primario en casos de deformidades graves y como reemplazo de un implante primario desimplantado. Se ha evaluado la supervivencia, las complicaciones, las características clínicas, radiológicas, y la calidad de vida de los pacientes en los que se ha implantado en los últimos años una OCC Se realizó un estudio retrospectivo de 189 OCC implantadas en 161 pacientes entre 1999 y 2005. El seguimiento medio fue de 9 años (7, 13). 79,9% eran mujeres con una edad media de 72 años (41, 92). xxvi Los pacientes con artroplastias primarias presentan una edad media era de 70 años, mientras que los pacientes de revisión aséptica tenían una edad media de 73,6 años. El 67% de los pacientes padecían alguna enfermedad cardiovascular y el 18% presentaba diabetes mellitus. El 19% eran obesos (IMC> 40). La valoración preoperatoria fue ASA3-4 en el 58,2% de los casos. 107 rodillas eran derechas. En 14,8% de los pacientes la OCC se implantó bilateralmente. La indicación más frecuente fue la artrosis con deformidad grave (89 rodillas), seguida por la desimplantación aséptica de la rodilla primaria (85 rodillas) y por la desimplantación séptica (15 rodillas). Las rodillas artrósicas presentaban deformidades en varo inestable en el 44,4%. El defecto óseo más frecuente encontrado fue el defecto tibial medial (35%). Las artroplastias primarias desimplantadas fueron una artroplastia total de rodilla en 81 casos, mientras que las otras 19 artroplastias fueron unicondíleas. El 78% de las artroplastias primarias fueron cementadas. El 66% de la ATR primaria eran conservadoras del cruzado. La revisión se llevó a cabo después de más de 5 años de la ATR primaria en la mayoría de los casos. Se ha evaluado el preoperatorio, la cirugía y las condiciones postoperatorias mediante el estudio de las historias clínicas de todos los pacientes. Con el fin de estudiar la situación funcional y clínica utilizamos en la consulta, la escala del Hospital for Special Surgery (HSS) y la escala de la Knee Society (KSS), tanto la parte clínica como la funcional. Se analizaron las radiografías para componer la situación radiológica de los implantes mediante el sistema de la Knee Society. La calidad de vida se estudió con el Oxford Knee Score (OKS), los pacientes vivos respondieron las 12 preguntas antes y después de la cirugía. xxvii Hemos analizado la tasa de supervivencia de nuestras artroplastias. La supervivencia fue estudiada distinguiendo la causa del fracaso: global, asépticas y sépticas. Estudiamos si cualquier condición preoperatoria o de la cirugía ha modificado los resultados o la supervivencia de las artroplastias. El análisis estadístico incluyó la prueba T de Student y el análisis de supervivencia mediante curvas de Kaplan-Meier y Regresión de Cox... [ABSTRACT]During last years, the treatment of knee degenerative diseases becomes one of the most common pathology in the Orthopaedic Rooms. Depending on the anatomy of the patient some implant can be used. There are many types of Total Knee Arthroplasties (TKA). We used the Optetrak Condylar Constrained (OCC), a semi-constrained revision type arthroplasty to treat severe knee osteoarthritis and revision of a failure primary arthroplasty. This study aimed to evaluate and compare the OCC implanted as primary procedure in cases of severe deformities and as replacement of a failure primary total knee arthroplasty. To assess the survivorship, the complications, the clinical, radiological, and functional situation, and the quality of life of those patients in whom a OCC revision total knee arthroplasty had been implanted in the past years. We performed a retrospective study of 189 OCC implanted in 161 patients between 1999 and 2005. The mean follow-up was 9 years (7, 13). 79,9% were women with a mean age of 72 years (41, 92). The primary arthroplasties patients mean age was 70 years while the aseptic revision patients mean age was 73,6 years. The 67% of our patients suffered cardiovascular diseases and 18% presented diabetes mellitus. The 19% was obese (BMI>40). The preoperative score were ASA3-4 in 58,2% of the cases. 107 knees were right. 14,8% of the patients the OCC were found bilaterally. The most frequent indication was severe deformity osteoarthritis (89 knees), followed by the aseptic failure of the primary knee (85 knees) and last was the septic failure (15 knees). The osteoarthritis deformities were unstable varum in the 44,4%.The most frequent bone defect found was the medial tibial defect (35%). The failure primary knee arthoplasty were a total knee arthoplasty in 81 cases, while the other 19 arthroplasties were unicondilar. The 78% of the primary arthroplasty was cemented. 66% of the primary TKA was CR. The revision was done after more than 5 years of the primary TKA. We assess the preoperative, the surgery and the postoperative conditions studying the medical files of all the patients. In order to study the functional and clinical situation we use the Hospital for Special Surgery (HSS) Score and the Knee Society Score (KSS), both clinical and functional. We analyzed all the x-ray to have the radiological situation using the Knee Society Roentgenographic evaluation. The quality of life was studied using the Oxford Knee Score (OKS), the alive patients answered the 12 questions before and after the surgery. We have analyzed the survivorship rate of our arthroplasties as well. The survival was studied because of the cause of failure: global, aseptic and septic...
Description
Tesis inédita de la Universidad Complutense de Madrid, Facultad de Medicina, Departamento de Cirugía, leída el 10-09-2013
Collections