Publication:
Evaluación de dismorfia muscular y adicción al ejercicio físico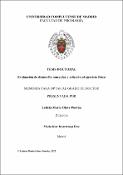 Files
Authors
Advisors (or tutors)
Editors
Publisher
Universidad Complutense de Madrid
Abstract
La actividad física es un comportamiento deseable que contribuye al estado de salud tanto a nivel físico como psicológico, con un impacto positivo en la esfera bio-psico-social de las personas. La práctica de ejercicio físico está asociada a la segregación de determinados neurotransmisores en el cerebro, como serotonina y dopamina, además de neurohormonas como las catecolaminas. El efecto que produce el ejercicio físico a nivel cerebral lo convierte en un comportamiento potencialmente adictivo. El paso de una conducta saludable a una conducta problema se produce cuando lo que guía este comportamiento evoluciona desde un refuerzo positivo, como la búsqueda de placer, hasta un refuerzo negativo, como la evitación del malestar que produce la interrupción del ejercicio. Esto además se acompaña de una pérdida del control sobre la conducta y aparición de tolerancia (cada vez se necesita más ejercicio físico para conseguir los efectos deseados) y síndrome de abstinencia (malestar tanto físico como psicológico cuando se detiene, interrumpe o se trata de reducir el comportamiento), dando lugar a una adicción comportamental. La complejidad del estudio de las adicciones reside en que frecuentemente son problemas multifactoriales que requieren de un abordaje multidimensional. Desde este contexto nace la presente investigación, donde se explora la relación de la adicción al ejercicio físico (AEF) y la dismorfia muscular (DM), ya que ambos trastornos tienen en común la adicción o dependencia por el ejercicio, y otras variables relevantes relacionadas con patologías adictivas como la autoestima, los esquemas tempranos inadaptados, la dependencia emocional, los estilos de apego, la impulsividad y otras adicciones, ya sean a sustancias o a comportamientos, tales como el abuso/dependencia de alcohol, el trastorno por juego, la adicción a sustancias, los trastornos de alimentación, la adicción a Internet, la adicción a videojuegos, el gasto compulsivo y la adicción al sexo...
Physical activity is a desirable behaviour that contributes to the state of health both physically and psychologically, with a positive impact on the bio-psycho-social sphere of people. The practice of physical exercise is associated with the secretion of certain neurotransmitters in the brain, such as serotonin and dopamine, as well as neurohormones such as catecholamines. The effect of physical exercise on the brain makes it a potentially addictive behaviour. The transition from healthy behaviour to problem behaviour occurs when the behaviour that guides this behaviour evolves from positive reinforcement, such as pleasure seeking, to negative reinforcement, such as avoidance of discomfort caused by interrupting exercise. This is also accompanied by a loss of control over behaviour and the appearance of tolerance (more and more physical exercise is needed to achieve the desired effects) and withdrawal syndrome (both physical and psychological discomfort when it stops, interrupts or tries to reduce behaviour), leading to a behavioural addiction. The complexity of the study of addictions resides in that they are frequently multifactorial problems that require a multidimensional approach. From this context the present research was born, where the relationship between exercise addiction (EA) and muscle dysmorphia (DM) is explored, since both disorders have addiction or dependence due to exercise, and other relevant related variables in common. with addictive pathologies such as self-esteem, maladaptive early schemes, emotional dependence, attachment styles, impulsivity and other addictions, whether to substances or behaviours, such as alcohol abuse / dependence, gambling disorder, addiction substance abuse, eating disorders, internet addiction, video game addiction, compulsive spending and sex addiction...
Description
Tesis inédita de la Universidad Complutense de Madrid, Facultad de Psicología, leída el 25-03-2022
Collections