Publication:
Utilidad de la evaluación volumétrica con resonancia magnética en la valoración inicial y postquirúrgica de gliomas de alto grado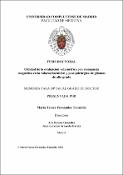 Files
Advisors (or tutors)
Editors
Publisher
Universidad Complutense de Madrid
Abstract
A pesar de los intensos esfuerzos investigadores en las últimas décadas el glioblastoma sigue siendo el tumor cerebral primario más frecuente y letal en adultos. Pese al tratamiento, la supervivencia no suele superar el año de vida. El objetivo principal de nuestro estudio es determinar si existen diferencias en supervivencia en función del volumen tumoral captante pre (VTP) y postquirúrgico (VTR) calculados mediante la resonancia magnética volumétrica (RM) pre y postquirúrgica precoz. Además también analizaremos si existen diferencias significativas en supervivencia en los pacientes con resección completa frente a parcial, en función de la edad, el nivel en la escala de Karnofsky postquirúrgica, la localización del tumor tanto anatómica como función y de la metilación del promotor MGMT (metil-guanina-O6-DNAmetiltransferasa).Material y Métodos:395 pacientes adultos con glioblastoma primario grado IV confirmados histológicamente y con IDH (isocitrato deshidrogenasa) no mutado fueron revisados de manera retrospectiva entre los años 2011-2019. El periodo de observación finalizó el 30 de junio de 2021. Se revisaron tanto las RM pre como la postquirúrgica precoz y se determinó el volumen tumoral captante pre y postquirúrgico. El análisis de Kaplan-Meier se empleó sobre el VTP, VTR, extensión de resección (EOR),edad, estado de la metilación del promotor MGMT, hospital donde se realiza la cirugía, tipo de cirugía (completa, parcial y biopsia), localización del tumor y KPS (Karnosfky Performance Status) postquirúrgico. El test de Chi-cuadrado fue utilizado para valorar diferencias en función de la ubicación tumoral tanto anatómica como funcional según la clasificación de Sawaya et al. La supervivencia se analizó en función del tipo de resección realizada (completa vs parcial vs biopsia). El índice de Kappa valoró el grado de concordancia entre los informes radiológicos y los quirúrgicos. Por último, la correlación de Spearman analizó cualquier asociación significativa entre las distintas variables. En todos los test, el valor de p<0,05 se consideró significativo...
Glioblastoma is still the most common malignant brain tumor with a very short expected survival, even with early treatment. The main goal of this study was to determine if there were differences in survival depending on residual tumor and preoperative tumor volumes calculated on pre and post-surgery magnetic resonance imaging (MRI). The secondary goals were to analyze patients who underwent partial vs complete resection and to identify if certain tumor locations, patient's age, level on post-surgery Karnofsky scale and molecular subtypes were associated with better outcomes. Methods: 395 patients from different institutions were retrospectively reviewed from 2011 to 2019 and the observation period finished on June 2021. Only adults with confirmed primary glioblastoma grade IV IDH wild type and with good quality of MRI images were included. Pre- and post-contrast 3D T1 MRI weighted images were evaluated to calculate pre and post-operative tumor volumes. Kaplan-Meier analysis was performed on both volumes, EOR, presurgical area, age, type of surgery, KPS post-surgery, molecular subtype, tumor's location and the hospital were the resection was performed. Chi-squaretest was performed to evaluate any relation between survival (following Sawaya et al. classification), type of surgery (partial vs complete resection) and adjuvant treatment. Kappa index was performed between the impression of the neurosurgeon after the surgery and the report of the neuroradiologist in the postsurgical MRI. Spearman correlations were used to investigate any association between variables...
Description
Tesis inédita de la Universidad Complutense de Madrid, Facultad de Medicina, leída el 25-03-2022
Collections