Publication:
Factores Predictivos de Segunda Fractura de Extremidad Proximal de Fémur en el Paciente Anciano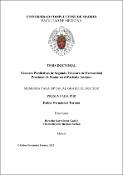 Files
Authors
Advisors (or tutors)
Editors
Publisher
Universidad Complutense de Madrid
Abstract
La fractura de cadera es un evento cuya incidencia está en aumento debido al envejecimiento progresivo de la población. De todos los pacientes ancianos con fractura de cadera, un 2-20% van a padecer una segunda fractura en la cadera contralateral. Estos enfermos ven incrementado el riesgo de mortalidad, ajustado por edad, en un 55% debido exclusivamente al hecho de experimentar una segunda fractura de cadera. Este evento suele tener lugar de forma precoz, en la mayoría en los primeros 3 años tras la primera fractura y conlleva un elevado consumo de recursos. Pese a su importancia, actualmente no están definidas las características ni los factores de riesgo para sufrir un segundo evento. Objetivos: el objetivo principal es determinar los factores de riesgo para padecer una segunda fractura de cadera y describir sus características. Como objetivos secundarios se encuentran el diseño de una herramienta predictiva del riesgo de sufrir una nueva fractura de fémur proximal, valorar las complicaciones intrahospitalarias tras la primera fractura y su relación con la mortalidad...
The hip fracture incidence is increasing due to the progressive ageing of the population. Second hip fracture was found to be a high incidence of 2-20% among the survivors and tended to rise. A subsequent fracture in contralateral hip is associated with increasing the hazard of death by 55%. Second hip fracture in most of cases is an early event, taking place in the first 3 years after the first hip fracture. Second hip fracture has devastating effects in survival and life quality stress, which almost certainly will increase in the years to come. However, little is known about risk factors of second hip fracture. Objectives: The main objective is to investigate the factors that might play a role in the occurrence of the second hip fracture in elderly patients with initial hip fractures. Secondary objectives include a predictive tool design for the risk of subsequent femur fracture. Another objective is to describe the in-hospital complications after the first hip surgery and their relationship with mortality...
Description
Tesis inédita de la Universidad Complutense de Madrid, Facultad de Medicina, Departamento de Cirugía, leída el 12-05-2022
Collections