Publication:
Estudio de la influencia e interacción del riesgo poligénico y factores ambientales en la gravedad y tipología de pacientes con Trastorno del Espectro Autista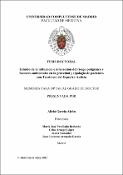 Files
Authors
Advisors (or tutors)
Editors
Publisher
Universidad Complutense de Madrid
Abstract
Los Trastornos del Espectro Autista (TEA), según las estimaciones más recientes, presentan una prevalencia que se sitúa en valores superiores al 1%. Conforman un conjunto de trastornos del neurodesarrollo con etiología multifactorial, donde, desde el punto de vista genético se combina el riesgo derivado de variantes comunes con el riesgo asociado a variantes raras presentes en una minoría sustancial de casos. En los últimos años se ha avanzado en la investigación sobre los distintos mecanismos etiológicos, principalmente en el área de las posibles bases genéticas subyacentes. Otra de las ramas de investigación se ha centrado en la posible presencia de factores ambientales de riesgo o predisposición para el desarrollo de TEA relacionados con características parentales y condiciones obstétricas, ya anteriormente asociadas con otros trastornos neurológicos y psiquiátricos. Es un campo de estudio de gran actualidad el ahondar en la interacción de los factores ambientales con el riesgo genético en la aparición y tipo de sintomatología autista. A nivel clínico, los TEA están caracterizados por déficits sociales y comunicativos, así como la presencia de comportamientos, intereses o actividades estereotipadas y repetitivas. Al ser aun escasos los conocimientos sobre las bases biológicas, es en dichas características clínicas en las que se apoyan los criterios diagnósticos en la actualidad. Esta tesis doctoral se subdivide en tres estudios independientes pero relacionados entre sí: 1) Rasgos autistas de los padres, edad de concepción y riesgo poligénico en los trastornos del espectro autista, 2) El estrés materno durante el embarazo como predictor de la sintomatología restringida, repetitiva y estereotipada en los hijos con Trastornos del Espectro Autista, 3) La exposición a la oxitocina en el parto y su relación con el deterioro cognitivo y la arquitectura genética del autismo...
Autism Spectrum Disorders (ASD), according to the most recent estimates, have a prevalence of over 1%. They are a group of neurodevelopmental disorders with a multifactorial aetiology, where, from a genetic point of view, the risk derived from common variants is combined with the risk associated with rare variants present in a substantial minority of cases. In recent years, research into the various aetiological mechanisms has progressed, mainly in the area of possible underlying genetic bases. Another branch of research has focused on the possible presence of environmental risk factors or predisposing factors for the development of ASD related to parental characteristics and obstetric conditions, previously associated with other neurological and psychiatric disorders. The interaction of environmental factors with genetic risk in the appearance and type of autistic symptomatology is a very topical field of study. At the clinical level, ASD is characterised by social and communicative deficits, as well as the presence of stereotyped and repetitive behaviours, interests or activities. As knowledge about the biological basis is still scarce, it is on these clinical characteristics that diagnostic criteria are currently based. This doctoral thesis is subdivided into three independent but related studies: 1) Parental autism traits, age at conception and polygenic background in Autism Spectrum Disorders (ASD), 2) Maternal stress during pregnancy as a predictor of restricted, repetitive and stereotypic symptomatology in ASD offspring, 3) Oxytocin exposure in labor and its relationship with cognitive impairment and the genetic architecture of autism...
Description
Tesis inédita de la Universidad Complutense de Madrid, Facultad de Medicina, leída el 09-06-2022
Collections