Publication:
Evaluación funcional de una nueva mutación intrónica en el gen KCNH2 en una familia con síndrome de QT largo : estudio en cardiomiocitos diferenciados a partir de células pluripotentes inducidas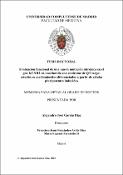 Files
Authors
Advisors (or tutors)
Editors
Publisher
Universidad Complutense de Madrid
Abstract
Desde su descubrimiento, hemos sido conscientes de las potenciales aplicaciones de las células madre pluripotentes inducidas (iPSCs). Si bien la utilización de células madre pluripotentes embrionarias humanas (hESCs) puede considerarse limitada principalmente por su repercusión ética, con el descubrimiento de las iPSCs se eliminó la limitación que la ética imponía a la explotación de la característica más importante de estos tipos celulares: la pluripotencia. Las iPSCs constituyen una fuente inagotable de células pluripotentes que poder diferenciar en cualquier tipo celular adulto, con las aplicaciones de tan elevada consideración que esto supone. Aunque aún nos encontramos lejos de su utilización en medicina regenerativa, de su uso para la obtención de tejidos u órganos que sustituyan tejidos u órganos afuncionales como resultado del padecimiento de una patología cualquiera, su utilización para el modelado in vitro de enfermedades se encuentra en auge, y es que, a día de hoy, son numerosas las enfermedades de las que se dispone de modelos in vitro basados en iPSCs. Cultivos celulares con los que poder vislumbrar los mecanismos moleculares que subyacen a una patología, con los que poder comprender enfermedades y con los que poder someter a ensayo tratamientos farmacológicos prescindiendo del uso de modelos animales, incluso en modelos paciente-específicos. Éste es el fin último de la presente tesis, de una tesis que engloba los caminos a recorrer desde la obtención de una fuente de células adultas para la generación de una línea de hiPSCs estable, a la generación de un modelo in vitro de una patología concreta, el síndrome de QT largo de tipo 2 (SQTL2).Para ello, en primer lugar, procedimos con el aislamiento de fibroblastos de muestras de piel de un paciente varón con SQTL2 portador de una mutación en el gen KCNH2 y de una mujer sana emparentada con el mismo (sobrina), que reprogramamos para la generación de hiPSCs a partir de la expresión ectópica de los genes OCT4, SOX2, KLF4 y c-MYC (factores de Yamanaka), introducidos mediante un sistema de transporte viral.Por último, diferenciamos las hiPSCs obtenidas, y previamente caracterizadas, en cardiomyocyte like cells (CLCs), cuya expresión génica y electrofisiología analizamos minuciosamente, y en comparación con CLCs sanas que utilizamos como control, para determinar la consecución de un modelo in vitro de SQTL2, es decir, la existencia de diferencias in vitro que se pudieran asociar particularmente a mutaciones en el gen KCNH2.
Since their discovery, it is well known that induced pluripotent stem cells (iPSCs) can provide a lot of different applications. The use of human embryonic stem cells (hESCs) is limited due to ethical reasons, but iPSCs discovery has supposed a new way of exploiting the most important characteristic of this type of cells: their pluripotency.iPSCs are an inexhaustible source of pluripotent cells that can be differentiated into any type of adult cells, along with all the applications this might open and provide. Nowadays, we are far from the regenerative medical use these cells could achieve, the obtainment of tissues or organs as a replacement for other that has been damaged due to any pathology, whereas, the use for modelling diseases in vitro is growing. Even more, we have in vitro models of a lot of diseases, cellular cultures for studying the molecular mechanisms of any pathology, and for animal-free pharmacological trials, even in patient-specific models. This is the final objetive of my thesis, which includes the obtainment of an adult cells source for generating a stable cell line of hiPSCs and the creation of an in vitro model of type 2 long QT syndrome (LQTS2).First of all, we isolated fibroblasts from skin samples of a male patient with SQTL2 due to a KCNH2 gene mutation, and a female healthy patient, without mutations, familiarly related to him (his nephew). These skin fibroblasts were used to generate hiPSCs with ectopic expressions of OCT4, SOX2, KLF4 and c-MYC genes (Yamanaka´s factors), that we introduced in cells using a viral transport system.Finally, we characterized and differentiated the hiPSCs into cardiomyocyte like cells (CLCs), and we studied their gene expression and their electrophysiology, in comparison with healthy CLCs that we used as controls in the generation process of an in vitro model of LQTS2, CLCs with differences due to mutations in KCNH2 gene.
Description
Tesis inédita de la Universidad Complutense de Madrid, Facultad de Medicina, leída el 26-04-2022
Collections