Publication:
Diseño de una herramienta para valorar la adecuación de la estancia hospitalaria en pacientes quirúrgicos (VAEQ)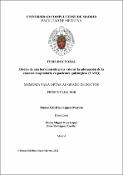 Files
Authors
Advisors (or tutors)
Editors
Publisher
Universidad Complutense de Madrid
Abstract
Dentro de los estudios de adecuación en el ámbito sanitario, la estancia hospitalaria es un elemento de gran interés, no sólo por el aspecto económico (con un coste estimado de 1.051,51 euros por día de hospitalización para servicios quirúrgicos y 573,17 euros para los médicos), sino también, por la posible repercusión clínica de la inadecuación de la estancia, con un aumento de las infecciones nosocomiales y otros eventos adversos en estos pacientes. Además, conlleva una disminución de la satisfacción del paciente y su familia con todo el proceso asistencial. Se estima que existe una tasa de inadecuación en la estancia hospitalaria de alrededor del 30%, variando según los autores desde un 24 % hasta un 76%.De entre las herramientas existentes para medir la adecuación de la estancia hospitalaria (AEP, OBSI, AdeQhos, ISD, etc.), AEP, es la más utilizada. Diseñada en 1981 y actualizada por última vez en 1987, tiene una buena sensibilidad, aunque su especificidad es baja, y no presenta un diseño específico para los pacientes quirúrgicos...
Among appropriateness studies in the sanitary environment, hospital stay is an element of great interest, not only because of his economic impact (with an estimated cost of 1.051,51 euros per day in surgical services and 573,13 in medical ones), but also because of its clinical implications. Inappropriateness in hospital stay is linked to an increase of hospital acquired infections and other adverse events. Furthermore, it decreases the patient and his family's satisfaction with the healthcare process.Inappropriate hospital stay is estimated at 30% approximately, varying from 24% to 76%, depending on the author. Among the existing tools for measuring appropriateness hospital stay (AEP, OBSI, AdeQhos, ISD, etc.), AEP is considered as the standard. Designed in 1981 and updated for the last time in 1987, it has good sensibility although its specificity is low, and it is not specific for surgical patients. The objective of this work is to develop an actualized tool for assessing hospital appropriateness in a General Surgery department.For assessing hospital appropriateness in surgical patients, a new tool (VAEQ) was designed as part of this study. Delphi methodology was used to improve its validity...
Description
Tesis inédita de la Universidad Complutense de Madrid, Facultad de Medicina, leída el 25-02-2022
Collections