Publication:
Evaluación de la Inmunodeficiencia Secundaria en Trasplante de Órgano Sólido : Detección y Reconstitución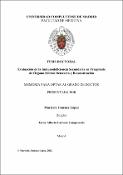 Files
Authors
Advisors (or tutors)
Editors
Publisher
Universidad Complutense de Madrid
Abstract
El trasplante de órgano sólido (TOS) es una terapia actualmente bien establecida para los pacientes con enfermedades graves y terminales. La combinación del estado de inmunosupresión basal, riesgos quirúrgicos, uso de asistencias circulatorias y complicaciones del trasplante, predisponen a esta población a complicaciones y secuelas infecciosas de importancia clínica, por lo que el diagnóstico temprano y específico es esencial para resultados clínicos adecuados. Tal diagnóstico podría beneficiarse de la medicina personalizada con monitorización inmunológica como herramienta complementaria. Hipótesis y objetivos: La medición de los biomarcadores inmunológicos, hematológicos y bioquímicos es útil para identificar pacientes que se encuentran en riesgo de infecciones en el periodo post TOS. Los objetivos de este trabajo son evaluar el uso de biomarcadores inmunológicos, hematológicos y bioquímicos de inmunodeficiencia secundaria que influyen en la predicción de infecciones en pacientes con TOS en distintos centros hospitalarios...
Solid organ transplantation is currently a well-established therapy for patients with terminal diseases. The combination of immunosuppression, surgical risks, circulatory assistances, and transplant complications predispose this population to infectious complications and sequelae of clinical importance, because of this, early and specific diagnosis is essential for adequate clinical results and could benefit from personalized medicine with immunologic monitoring. Hypothesis and objectives: Measurement of immunological, hematological, and biochemical biomarkers are useful to identify patients who are at risk of infections in the post-transplant period. The main objective of this study is to evaluate the use of immunological and biochemical biomarkers of secondary immunodeficiency that influence the prediction of infections in patients with solid organ transplants in different hospital centers...
Description
Tesis inédita de la Universidad Complutense de Madrid, Facultad de Medicina, leída el 27-04-2022
Collections