Publication:
Evaluación Inmunológica de Terapias Inmunomoduladoras con Inmunoglobulinas y con Células mesenquimales en pacientes inmunosuprimidos por trasplante o por SARS-CoV-2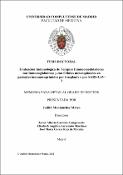 Files
Authors
Editors
Publisher
Universidad Complutense de Madrid
Abstract
PARTE 1 Las infecciones se mantienen como una causa relevante de morbilidad y de un incremento de costos tras un trasplante de órgano sólido (TOS). La inmunodeficiencia secundaria de anticuerpos, definida como hipogammaglobulinemia IgG (HGG) se ha vinculado a un riesgo elevado de desarrollar infecciones severas en esta condición clínica. PARTE 2 A la fecha, 15 de noviembre del 2021, se han realizado numerosas investigaciones intensivas y ensayos clínicos, sin embargo, no se ha encontrado un tratamiento eficaz para pacientes con la enfermedad por coronavirus (COVID-19) de grado severo o crítico. Estudios previos han reportado que las células madre mesenquimales de placenta humana (pMSCs) presentan propiedades inmunomoduladoras en otros contextos inflamatorios...
PART 1 Infections remain a significant cause of morbidity and increased costs after a solid organ transplant (SOT). Secondary antibody deficiency defined as IgG hypogammaglobulinemia (HGG), has been linked to an increased risk of developing severe infections in this clinical setting. PART 2 To date, November 15, 2021, several intensive research, and clinical trials have been conducted, however, an efficacious treatment for severe and critical COVID-19 patients is lacking. Previous studies have reported that human placental mesenchymal stem cells (pMSCs) have immunomodulatory properties in other inflammatory contexts...
Description
Tesis inédita de la Universidad Complutense de Madrid, Facultad de Medicina, leída el 30-03-2022
Collections