Publication:
Predicción del riesgo de infección bacteriana grave en niños con enfermedad de células falciformes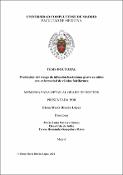 Files
Authors
Editors
Publisher
Universidad Complutense de Madrid
Abstract
Los niños con enfermedad de células falciformes (ECF) tienen un riesgo aumentado de infección bacteriana grave (IBG), principalmente debido a la asplenia funcional que presentan. Sin embargo, en las últimas décadas, la incidencia de estas infecciones ha disminuido en estos pacientes, gracias a la instauración de medidas preventivas como la profilaxis antibiótica con penicilina y la vacunación. A pesar de ello, debido a su potencial riesgo, cuando estos pacientes presentan fiebre suelen recibir tratamiento antibiótico de amplio espectro, en muchas ocasiones con ingreso hospitalario. Se han descrito algunos parámetros, tanto clínicos como de laboratorio, como marcadores de IBG en estos pacientes, con distintos resultados. Sin embargo, hasta el momento, ninguno de ellos ha conseguido diferenciar de forma segura la etiología de la fiebre en estos niños. Las citoquinas proinflamatorias han sido estudiadas en pacientes con ECF en situación basal y con crisis vasooclusivas, pero no han sido estudiadas en casos de infección...
Children with sickle cell disease (SCD) are at risk of severe bacterial infection (SBI), mainly due to functional asplenia. However, in recent decades, the incidence of these infections has decreased in these patients, especially because of the introduction of preventive measures such as penicillin prophylaxis and vaccination. Despite this fact, due to their potential risk, they usually receive treatment with broad-spectrum antibiotics when they develop fever, with hospital admission in many cases. Some clinical and laboratory parameters have been described as markers of SBI in these patients, with different results. However, none among these parameters has proved to differentiate safely the etiology of fever in these children. Proinflammatory cytokines have been studied in patients with SCD at steady-state and with vaso-occlusive crises, but they have not been studied in cases of infection...
Description
Tesis inédita de la Universidad Complutense de Madrid, Facultad de Medicina, Departamento de Pediatría, leída el 19-04-2022
Collections