Publication:
Generación de modelos preclínicos predictivos para la evaluación de nuevas estrategias terapéuticas para pacientes con carcinoma de pulmón no microcítico con mutación en KRAS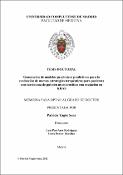 Files
Authors
Advisors (or tutors)
Editors
Publisher
Universidad Complutense de Madrid
Abstract
El cáncer de pulmón es la principal causa de muerte por cáncer en todo el mundo debido, al menos parcialmente, a la escasez de terapias eficaces. Este hecho es particularmente relevante en algunos subtipos moleculares como el que presenta mutaciones en KRAS, que es el gen conductor mutado más frecuente en el cáncer de pulmón no microcítico (CPNM), y que subyace al 20-30% de los adenocarcinomas de pulmón. A pesar de los esfuerzos en este sentido durante las últimas 4 décadas todavía no contamos con estrategias terapéuticas específicas válidas en este contexto. Por lo tanto, existe una necesidad de desarrollar nuevas estrategias terapéuticas para estos pacientes y para ello es necesario generar nuevos y mejores modelos preclínicos realmente predictivos de respuesta que permitan testar de forma óptima y eficaz. Los modelos derivados de tumores de pacientes, como los xenoinjertos derivados de paciente (PDX) in vivo y los organoides in vitro recapitulan más fielmente la complejidad y heterogeneidad del cáncer humano que otros modelos, y pudieran representar mejores herramientas experimentales no solo para testar nuevas terapias sino también para la búsqueda de biomarcadores de respuesta, y, por tanto, favorecer la implementación de la medicina de precisión en el CPNM...
Lung cancer is the leading cause of death due to cancer, among other reasons due to the lack of effective therapies for some subtypes, such as adenocarcinoma with mutation in the gene homologous to the Kirsten rat sarcoma viral oncogene (KRAS), which accounts for 20-30% of these cases. Despite advances in research and the development of new targeted therapies, there are still no effective targeted therapies approved in the clinic for patients with KRAS-mutated lung adenocarcinoma. Therefore, there is a need to develop new therapeutic strategies for these patients and for this it is necessary to generate new and better preclinical models that are truly predictive of response that allow these new potential therapeutic strategies to be optimally tested. Models derived from patient tumors, such as PDX in vivo and organoids in vitro, more accurately recapitulate the complexity and heterogeneity of human cancer than other models, and could represent better experimental tools not only for testing new therapies but also for the search for biomarkers of response, and, therefore, favor the implementation of precision medicine in NSCLC...
Description
Tesis inédita de la Universidad Complutense de Madrid, Facultad de Medicina, leída el 03-03-2022
Collections