Publication:
Nuevas terapias en cáncer colorrectal metastásico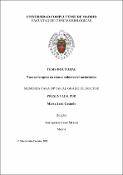 Files
Authors
Advisors (or tutors)
Editors
Publisher
Universidad Complutense de Madrid
Abstract
El cáncer colorrectal (CCR) sigue siendo uno de los cánceres más diagnosticados, ocupando el cuarto lugar en términos de incidencia y el tercero en términos de mortalidad. Más del 90% de las muertes asociadas a cáncer se deben al desarrollo de metástasis, proceso que se ve favorecido por la adquisición de propiedades similares a las células madre y la plasticidad celular, incluida la transición epitelio-mesénquima. La cascada metastásica involucra diferentes etapas en las que intervienen, factores de crecimiento, receptores, proteasas, quimioquinas y moléculas de adhesión celular, como cadherinas e integrinas, que podrían ser útiles como dianas terapéuticas. Actualmente, sigue sin haber tratamientos eficaces para la supervivencia a largo plazo de los pacientes de CCR con metástasis debido, por un lado, a la escasez de dianas terapéuticas en metástasis, y, por otro, a la generación de resistencia tanto a la quimioterapia como a la inmunoterapia actual. Todo ello hace necesario la búsqueda, identificación y desarrollo de nuevas dianas susceptibles de ser utilizadas en el tratamiento de la metástasis del CCR...
Colorectal cancer (CRC) remains one of the most commonly diagnosed cancers, ranking fourth in terms of incidence and third in terms of mortality. More than 90% of cancer-associated deaths are due to the development of metastasis, a process favored by the acquisition of stem cell-like properties and cellular plasticity, including epithelial- mesenchymal transition. The metastatic cascade involves different steps involving growth factors, receptors, proteases, chemokines and cell adhesion molecules, such as cadherins and integrins that could be used as therapeutic targets. Currently, there are no effective treatments for the long-term survival of patients with CRC metastasis. This is due to the scarcity of therapeutic targets in metastasis and to the generation of resistance to both chemotherapy and current immunotherapy. For this reason, it is necessary to search for, identify and develop new targets that could be used in the treatment of CRC metastasis...
Description
Tesis inédita de la Universidad Complutense de Madrid, Facultad de Ciencias Biológicas, leída el 13-07-2022
Collections