Publication:
Modulación de la actividad de IYO y RIMA para entender la autorrenovación y diferenciación de células madre en plantas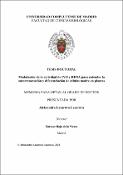 Files
Authors
Advisors (or tutors)
Editors
Publisher
Universidad Complutense de Madrid
Abstract
La diferenciación celular engloba dos decisiones secuenciales por parte de las progenie de células madre. La primera de ellas, y común a todo evento de diferenciación, es decidir si iniciar la transición o mantener la pluripotencia. La segunda decisión, específica de cada proceso de diferenciación, es en qué tipo celular diferenciarse y que patrón de expresión adquirir. Estudios previos revelaron que IYO y RIMA, dos proteínas que interactúan con la ARN polimerasa II (Pol II), son necesarias para todos los eventos de diferenciación celular que ocurren en la planta. En su ausencia, la diferenciación se bloquea completamente y las plantas crecen como una masa de células indiferenciadas, lo que sugiere que IYO y RIMA participan en la etapa más temprana, cuando las células deciden si entran o no en diferenciación. Además, IYO es limitante para iniciar esta transición y se acumula en el núcleo, de una forma dependiente de RIMA, en células de la periferia de los meristemos, justo cuando van a iniciar la diferenciación. Parece, por tanto, que la migración al núcleo del complejo IYO/RIMA funciona como un interruptor molecular para iniciar la diferenciación celular en plantas. La manipulación de este interruptor permite modificar el equilibrio entre la renovación de las células madre y su diferenciación y puede ser usado para revelar las propiedades fundamentales de estos estados celulares...
Cell differentiation entails two sequential decisions by the progeny of stem cells. The first one, shared in every event of differentiation, is whether to self-renew or initiate fate transition. The second decision, specific for each differentiation process, is which cell fate to attain and what expression pattern to acquire. Previous work in our laboratory suggests that IYO and RIMA, two proteins that interact with RNA polymerase II (Pol II), are necessary for all cell differentiation events that take place in the plant. In their absence, differentiation is completely blocked, and plants grow as a mass of undifferentiated cells, suggesting that IYO and RIMA participate at the earliest stage of the process, when cells decide whether or not to differentiate. Moreover, IYO is rate-limiting for initiating this transition and accumulates in the nucleus, in a RIMA-dependent way, in the periphery of the meristems, just when cells are bound to initiate differentiation. Therefore, it appears that migration to the nucleus of the IYO/RIMA complex works as a molecular switch to initiate cell differentiation in plants. Manipulation of this switch allows to modify the balance between stem cells self-renewal and differentiation and can be used to reveal the fundamental properties of these cellular states...
Description
Tesis inédita de la Universidad Complutense de Madrid, Facultad de Ciencias Biológicas, leída el 12-09-2022
Collections