Publication:
Influence of the Sense of Belonging and other Variables in the Modeling of the Repurchase Intention : an Application in the Context of Higher Education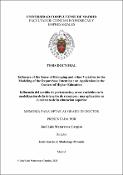 Files
Advisors (or tutors)
Editors
Publisher
Universidad Complutense de Madrid
Abstract
This research seeks through empirical testing to confirm the relationship between the sense of belonging to a company or institution and the likelihood of repurchasing. With this end in mind, we consider the context of Higher Education (HE), looking for the variables which may influence the repurchase intention, that is the returning to the same college, university, or business school where a student had previously studied. Our study has been carried out with more than 350 responses obtained from the alumni of three small and medium-sized institutions in Spain, the United States of America, and Colombia. The questionnaire designed for this study included questions regarding quality and value perceived as well as student satisfaction, in addition to questions referring to sense of belonging and repurchase intention. Moreover, a sequence of moderator and mediator variables, such as demographic and social variables, have been included in the study. In order to model these relationships, we apply the partial least square (PLS) method using SmartPLS software. The applied model takes into consideration reflective indicators for each variable. The results obtained allow us to affirm that the pride or sense of belonging felt by the alumni can be a good predictor of the repurchase intention (returning to the HE Institution) and, therefore, these results allow us to propose this variable as a useful tool for marketing in the future. The final objective of this research is to enable the managers of HE institutions to focus on the development of strategies which would increase the sense of belonging in the alumni.
Esta investigación busca a través de una prueba empírica confirmar la relación existente entre el sentido de pertenencia a una empresa o institución y la probabilidad de recompra. Para ello, consideramos el contexto de la Educación Superior, buscando, además, evaluar qué otras variables influyen en la intención de recompra, es decir, el regreso a la misma universidad o escuela de negocios donde había estudiado anteriormente un exalumno. Nuestro estudio se ha realizado con más de 350 encuestados, todos ellos obtenidas de los egresados de tres pequeñas y medianas instituciones educativas de España, Estados Unidos y Colombia. El cuestionario incluyó preguntas sobre la calidad percibida, el valor percibido y la satisfacción del estudiante, además de preguntas referidas al sentido de pertenencia y a la intención de recompra. Además, se ha incluido en el estudio una secuencia de variables moderadoras y mediadoras como variables demográficas y sociales. Para modelar estas relaciones, aplicamos el método de los mínimos cuadrados parciales (PLS) utilizando el software Smart PLS. El modelo aplicado ha considerado indicadores reflexivos para cada variable. Los resultados obtenidos permiten afirmar que el orgullo o sentido de pertenencia que sienten los egresados podría ser un buen predictor de la intención de recompra (retorno a Institución de Educación Superior) y, por tanto, este resultado permitiría proponer esta variable como una herramienta de predicción de la recompra en particular y de análisis de la lealtad del cliente dentro del Marketing de Servicios en general. Uno de los objetivos de esta investigación para directivos y gerentes de las instituciones de Educación Superior es que puedan ser capaces de centrarse en el desarrollo de estrategias que aumenten el sentido de pertenencia de los egresados.
Description
Tesis inédita de la Universidad Complutense de Madrid, Facultad de Ciencias Económicas y Empresariales, leída el 21-03-2022
Collections