Publication:
Geomodelización con sistemas de información geográfica aplicada a la generación distribuida y autoconsumo con energías renovables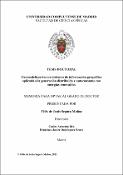 Files
Authors
Advisors (or tutors)
Editors
Publisher
Universidad Complutense de Madrid
Abstract
La energía es un tópico de enorme relevancia para la actividad humana; la energía solar fotovoltaica depende del recurso del Sol, para transformar la energía solar en energía eléctrica, por lo que es imprescindible conocer la configuración del sistema fotovoltaico en cuanto a número de paneles, ubicación de los mismos, posicionamiento, orientación, inclinación etc.; para ello, se suele recurrir a programas ya desarrollados que permiten realizar las estimaciones previas necesarias para decidir si una instalación fotovoltaica es conveniente o no, si bien no tienen la capacidad de introducir de manera sencilla un gran número de superficies, de manera que si se quiere procesar un gran número de techos de un polígono industrial se precisa invertir mucho tiempo, debiendo hacerlo manualmente tejado por tejado. Por otra parte, la precisión de la irradiación solar no siempre es la más idónea para casos específicos que requieran mayor detalle. Este es uno de los principales problemas que se deriva del manejo de un elevado número de superficies y que afecta de manera específica a la estimación precisa de su capacidad en muchas de las instalaciones actualmente en desarrollo o proyectadas para un futuro próximo...
Energy is a topic of enormous relevance to human activity; Photovoltaic solar energy depends on the resource of the sun, to transform solar energy into electrical energy. It is essential to know the configuration of the photovoltaic system in terms of number of panels, their location, positioning, orientation, inclination, etc.; To do this, programs already developed are usually used that allow making the necessary preliminary estimates to decide whether a photovoltaic installation is suitable, but they do not have the ability to easily introduce a large number of ceilings, so if you want to process a large number of roofs in an industrial estate require investing a lot of time, having to do it manually roof by roof. On the other hand, the precision of solar irradiation is not always the most suitable for specific cases that require more precision. This is one of the main problems that derives from the management of a large number of surfaces and that which specifically affects the precise estimation of capacity for many of the facilities currently under development or projected for the near future...
Description
Tesis inédita de la Universidad Complutense de Madrid, Facultad de Ciencias Físicas, leída el 04-04-2022
Collections