Publication:
The lithium-age relation : Calibration with open clusters and associations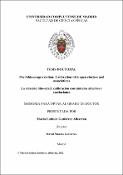 Files
Advisors (or tutors)
Editors
Publisher
Universidad Complutense de Madrid
Abstract
Lithium is a very fragile element that is easily destroyed in stellar interiors. In solar-type and lower mass stars, lithium is slowly being depleted and its surface abundance decreases over time. For this reason, lithium is a very sensitive tracer of stellar evolution, and is especially relevant in the determination of the age of stellar clusters. The lithium abundance (derived from the Li6707.76 Å line) observed in late-type stars is strongly age-dependent, but also shows a complex pattern depending on several parameters such as rotation, chromospheric activity, metallicity, mixing mechanisms, convection structure, and magnetic activity. The best way to calibrate these effects is to analyse and calibrate coeval groups of stars, such as open clusters and associations...
El litio es un elemento muy frágil que se destruye fácilmente en los interiores estelares. La abundancia superficial de litio disminuye lentamente con el tiempo en estrellas de tipo solar y estrellas poco masivas. Es por esta razón que el litio puede usarse para estudiar la evolución estelar, y es particularmente relevante a la hora de determinar la edad de cúmulos estelares. Las abundancias de litio (derivadas de la línea de Li en 6707.76 Å) observadas para estrellas de tipo tardío dependen fuertemente de la edad, pero también muestran un patrón complejo que depende de diferentes parámetros, desde la rotación, a la actividad cromosférica, la metalicidad, los mecanismos de mezcla, la estructura convectiva o la actividad magnética. La mejor forma de poder calibrar estos efectos es analizando en detalle conjuntos de estrellas de la misma edad, como los cúmulos abiertos y las asociaciones estelares...
Description
Tesis inédita de la Universidad Complutense de Madrid, Facultad de Ciencias Físicas, leída el 10-05-2022
Collections